Sexual violence, which is defined as any sexual activity where consent is not obtained or not given freely, is a major issue in the US and on college campuses. It is also a critical area for public health intervention. In the United States, someone is sexually assaulted every 107 seconds. In addition, 1 in 2 women, 1 in 5 men and 1 in 2 trans identifying individuals experience some form of sexual violence in their lifetime.
Here at the University of Iowa, there have been 7 sexual assaults reported so far this semester.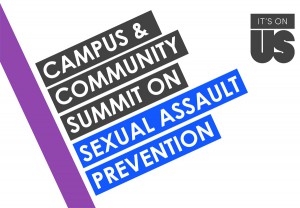 The Rape Victim Advocacy Program (RVAP) and the Women's Resource and Action Center (WRAC) are the two organizations leading sexual violence prevention efforts at the University of Iowa. In order to help address this issue, these organizations along with others at the university are hosting the "It's On Us" Summit again this year. This one day event is designed to raise awareness on sexual assault and interpersonal violence issues on campus and in our communities. The Summit will be held on Tuesday, April 19 at the Iowa Memorial Union. Registration is FREE and now open.
This summit is a great opportunity for those of us in public health to show our support and help bring more attention to this important public health issue. To find out more about the Summit and sexual violence resources on campus, check out the following links:
https://www.facebook.com/events/731708713632088/?active_tab=highlights