Corinne Peek-Asa: Injury is an emerging public health issue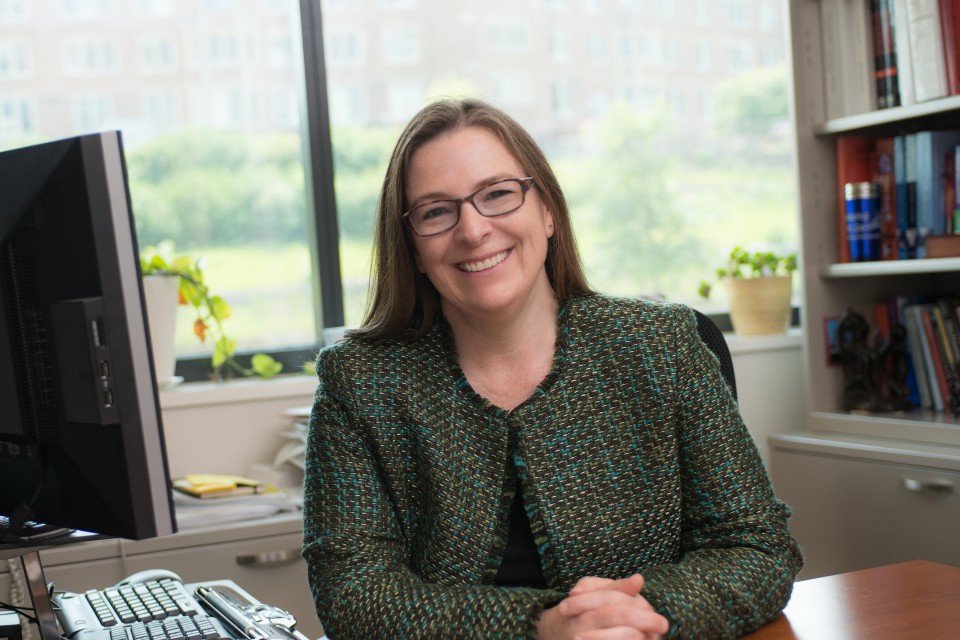 Reporters seeking information on teen driving and other news about traumatic injury and violence prevention often turn to Dr. Corinne Peek-Asa, but the research center she directs goes far beyond the latest hot topic.
Peek-Asa, associate dean for research for the University of Iowa College of Public Health and professor in the Department of Occupational and Environmental Health, oversees more than 66 research faculty and staff in the UI Injury Prevention Research Center.
The center offers education in injury prevention and control at the master's and Ph.D. level, with access to a wide range of data sources, such as from the Iowa Department of Transportation, Department of Public Health and state trauma registry, plus national databases and resources from international partners.
One Ph.D student, for example, is examining engineering research on bicycle safety, while another is using a national dataset to see if genes can predict partner violence.
"We want our students to get jobs in this field and we have a good track record of doing that, with ways of making them stand out," Peek-Asa said. "We have a broad range of students, with their work ranging from local to international."
Funded by the U.S. Centers for Disease Control and Prevention and focused on rural injury prevention and control, the UI center is one of just 11 injury "Centers of Excellence" in the country, engaging in high-impact, collaborative work of interest to state agencies, injury organizations and other entities.
Peek-Asa is uncertain why media interest in teen driving has been on the rise, as the center has been researching the topic for 20 years, partnering with engineering and driving simulation at the UI to devise interventions.
"Although we've made progress, we haven't solved the problem completely. Perhaps this has led the public to be much more aware of it as an issue than they have been in the past," she said.
Peek-Asa earned both her Master of Public Health and Ph.D. in epidemiology from the University of California, Los Angeles, and was on the faculty in the Department of Epidemiology at UCLA before joining the UI in 2001.
Surveillance and innovative interventions in areas such as partner violence, workplace violence, road traffic safety, and occupational injuries are among her many research interests. She and UI Associate Professor, Carri Casteel, worked with the multinational The Boeing Company to test training techniques to identify issues, such as workplace stress or partners who pose a threat, with the goal of preventing workplace violence. The work will now be continued with threat-management teams at mid-sized companies.
Real-world application of Peek-Asa's research also extends to the arts.
A ground-breaking play, called "Out of Bounds," was created by Iowa City's Working Group Theatre, in collaboration with the UI College of Public Health, and the UI Injury Prevention Research Center. The work, commissioned by the UI's Hancher, examines cyber-bullying among young teens and has been performed in the middle schools of two local school districts. She is working with playwrights and researchers to develop arts-based activities that schools can use to address bullying. Dr. Peek-Asa taught a service learning course to perform bullying prevention activities in association with the play.
Peek-Asa said the play complements legislative policies and provides a different avenue for students and others to address the harmful effects of bullying.
Another emerging issue, adverse childhood experiences – areas such as emotional abuse and neglect to physical and sexual violence – are not yet a major research initiative at the Injury Prevention Research Center, but Peek-Asa predicts the topic will become one.
"We're building the infrastructure," she said.
Intriguing studies on the connection between adverse childhood experiences and future health – links to cancer, heart disease and other conditions, for example – and decreased life expectancy make the topic a natural fit as a public health issue, Peek-Asa said.
The research doesn't condemn people who have been traumatized to bad health, Peek-Asa said, citing the resiliency of human nature.
"A better understanding of the causal pathway can change your health trajectory," she said.
Injury, in general, also is an emerging public health issue, Peek-Asa added. "For a long time, it was not in the dialogue of public health agencies, but it's really coming into its day."
— Profile by Cindy Hadish