UI College of Public Health graduates are leaders throughout Iowa, across the United States, and around the world as they work to improve the health and well-being of people where they live and work. Learn more about the varied career paths of our alumni.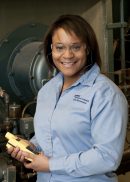 Krista Scott, 08MS
As an Industrial Hygienist at EMC Insurance Companies in Des Moines, Scott helps clients create policies and procedures to fill in the gaps in their own safety and health programs to prevent future problems. "If I can prevent a person from becoming ill or injured, rather than responding solely when an injury or illness does occur, then I have definitely accomplished something," she says.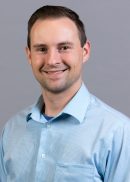 Greg Woods, MPH 2015
As a program specialist with the Greater Iowa Chapter of the Alzheimer's Association, Woods helps fellow Iowans cope with some of life's most challenging circumstances. Many of those Iowans meet Woods face-to-face, while some simply hear his voice on the weekly radio show he hosts. "While I was in school I studied a number of issues pertaining to rural Iowa, but learning community outreach, how to foster grassroots efforts, crafting messages to reach different populations, those have all been extremely helpful skills to have," he says.