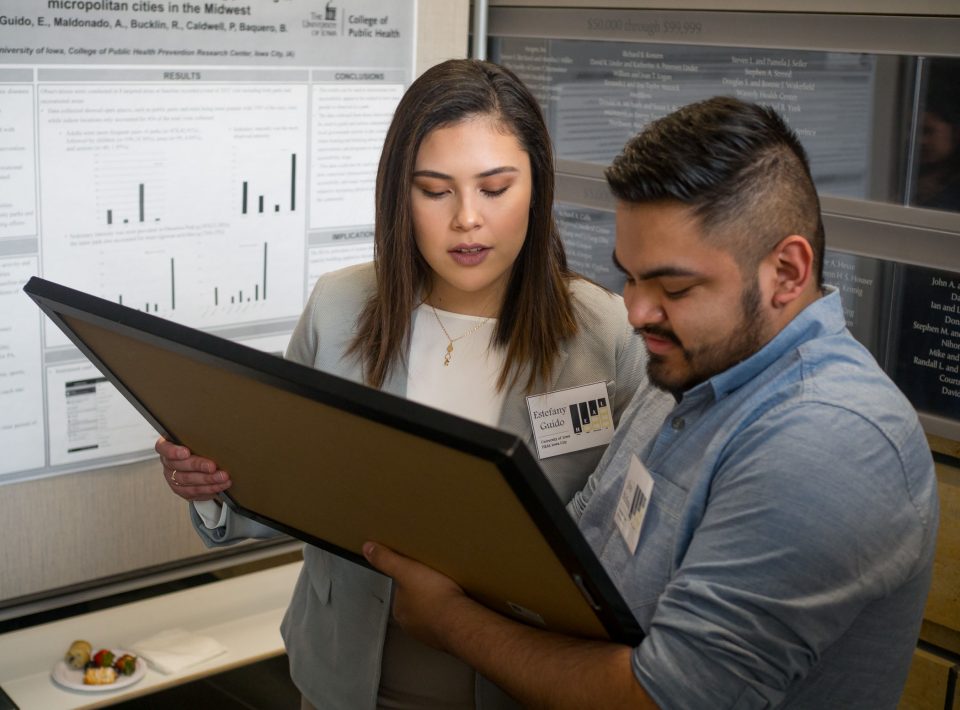 The Science of Health Equity Summit
Call for abstracts now open!
Student Poster Session
9 to 10:30 a.m., April 4, 2019
College of Public Health Building, Iowa City
Health Equity is the attainment of the highest possible health status for all people. Health equity occurs when society actively removes barriers that disproportionately affect the health status of particular individuals and groups within a society. By using this as a cornerstone of scientific research, the field of health equity can continue to move forward promoting improved quality of life for all.
The original deadline for abstracts was Nov. 5, 2018, at 11:59 p.m. CST. Late-breaking abstracts are now being accepted! These abstracts were not available or fully analyzed at the general abstract deadline of Nov. 5, 2018. The late-breaking abstract site opens on Friday, Feb. 1, 2019, and the deadline for late-breaking abstract submission is Friday, Feb. 15, at 11:59 p.m. CST. Notification regarding submission status will be sent to the presenting author on or after March 1. Please send all questions pertaining to poster abstracts to rebecca-bucklin@uiowa.edu.
Presenters of posters are expected to arrive at 8:30 a.m. on April 4 to set up their poster in the Atrium of the College of Public Health Building and must stay until the completion of the poster presentation at 10 a.m. Presenters are invited to stay for the entire summit which runs until 1:30 p.m.
Abstract Submission Guidelines
Abstracts must not exceed 250 words.
Abstracts to be accepted can be categorized in one of the following:

Research poster abstracts must contain the following sections: Background/introduction, methods, results, and discussion.
Concept presentation that includes a search into a public health field and the role health equity plays in this field.
Other formats (i.e. project presentations or media formats other than a formalized research poster) will be considered for acceptance with approval by HEAL faculty and staff but must contain aspects of Health Equity.

Abstracts should be uploaded as a Word document or a PDF.
Presenters will be asked to also submit brief statements summarizing how their project is related to the HEAL principles of health equity (projects do not have to be related to all of the principles of health equity. PLEASE ONLY FILL IN INFORMATION FOR PRINCIPLES RELATED TO YOUR PROJECT). Definitions for these principles can be found below.
Abstracts must be completed using the online submission form found below.
Late-breaking abstracts can be submitted online through Feb. 15, 2019, at 11:59 pm CST.
Poster Guidelines
Maximum poster size is 50x38inch.
Presenters are expected to prepare a two-minute presentation to present to people viewing your poster
Black-and-white or color are both acceptable
Student is responsible for any poster printing costs
Poster stand and tacks will be provided by HEAL
Important deadlines
Original abstract deadline: Nov. 5, 2018, at 11:59 pm CST
Late-breaker abstract deadline: Feb. 15, at 11:59 p.m. CST
Acceptance notification: On or after March 1.
Summit: April 4, 2019, (Arrive at 8:30 a.m. to set up your poster)
Submit your abstract
Please direct any questions to Becky Bucklin at rebecca-bucklin@uiowa.edu.