HEAL Events for Fall 2022
Kick-Off Event
The Health Equity Advancement Lab (HEAL) is open to all who are interested in learning more about health equity and social justice. HEAL serves to advance and promote health equity within our community through student interest groups, hands on service projects, advocacy and learning opportunities, and research projects. The HEAL Kick-off Meeting is an in-person event at the College of Public Health in room C217 on TDB. The event is open to any and all students, staff, and faculty interested in joining HEAL. You do not have to be within the College of Public Health to join us!
Please check back often for posted opportunities!
Previous HEAL Events
Previous HEAL Events:
Previous Science of Health Equity Summits
Screening of Memories of a Penitent Heart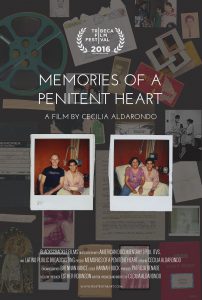 Monday, Dec. 3, N120 CPHB (Ellig Auditorium), from 7 to 9 p.m.
HEAL, in collaboration with the University of Iowa libraries hosted a screening of the film "Memories of a Penitent Heart" in acknowledgement of World AIDS day.
"Combining a wealth of recently discovered home movies, video, and written documents with artfully shot contemporary interviews and vérité footage, MEMORIES OF A PENITENT HEART is a documentary that cracks open a Pandora's box of unresolved family drama. Originating from filmmaker Cecilia Aldarondo's suspicion that there was something ugly in her family's past, the film charts her excavation of the buried family conflict around her uncle Miguel's death, and her search for Miguel's partner Robert a generation later. After two years of dead ends, Robert turns up: but he's not the same man. He's reinvented himself as Father Aquin, a Franciscan monk with twenty-five years of pent-up grief and bitterness. For the first time, a member of Miguel's family wants to hear Aquin's side of the story—but is it too little, too late? A story about the mistakes of the past and the second chances of the present, MEMORIES OF A PENITENT HEART is a cautionary tale about the unresolved conflicts wrought by AIDS, and a nuanced exploration of how faith is used and abused in times of crisis."
Latinx In Action Week honoring Cesar Chavez
HEAL encouraged members to attend the events surrounding Cesar Chavez week March 26-April 2nd.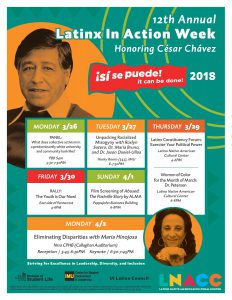 Monday 3/26 Panel: What does collective activism in a predominantly white university and community look like? PBB S401 5:30-7:30 PM
Tuesday 3/27 Unpacking Racialized Misogyny with Roslyn Sotero, Dr. Maria Bruno, and Dr. Jason Daniel-Ulloa. IMU Herky Room (343) 6-7:30 PM
Thursday 3/29 Latinx Constituency Forum: Exercise Your Political Power. Latino Native American Cultural Center 4-6 PM
Friday 3/30 Rally: The Youth is Our Now! East side of Pentacrest 4-6 PM
Sunday 4/1 Film Screening of Abused: The Postville Story by ALMA. Pappajohn Business Building 6-8 PM
Monday 4/2 Eliminating Disparities with Maria Hinojosa. N110 CPHB (Callahan Auditorium). Reception 5:45-6:30 PM. Keynote 6:30-7:45 PM.
More information and details about these events can be found at: multicultural.uiowa.edu.
Look for more events next year (2019) surrounding Cesar Chavez week!