Newsletters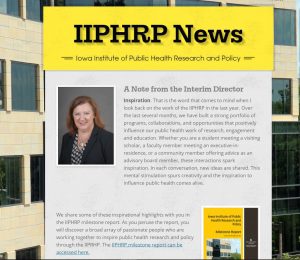 IIPHRP News – October 2017  This edition links to the IIPHRP annual report.  In addition, this news brief shares information about about recent Executive-in-Residence and Visiting Scholar activities, plus it provides a profile of the IIPHRP interns, practicum students and Graduate Research Assistants. 2017-2018 Policy Fellows are announced.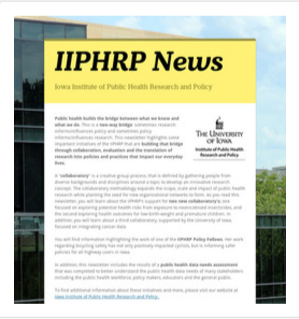 IIPHRP News – May, 2017
This edition  highlights information about the
Collaboratories
, the work a
policy fellow
to increase bicycling safety and the final report of the
public health data needs assessment
.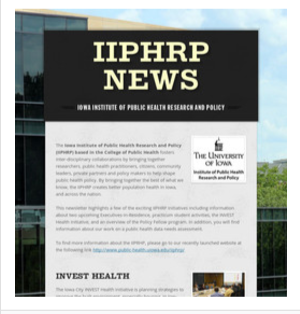 IIPHRP News – February, 2017
This edition includes information about upcoming
Executives-in-Residence,
IIPHRP practicum student activities for the
INVEST Health
initiative and an overview of the
Policy Fellow Program
.  It also includes information about the IIPHRP's work on a
public health data needs assessment
initiative
IIPHRP In the News