Locations
Program Details
The MHIRT program matches students with a summer internship at one of our international partnership sites. Program dates typically run from late May to early August and vary by location and year. Students should expect to spend approximately 10 weeks abroad. While abroad, students are paired with an on-site mentor working in their field of interest. While some students may be eligible to propose their own research project, most will opt to join an ongoing research project that their mentor is already working on. During the internship, students will get a hands on experience working in an international research setting and past students have participated in everything from field work to data analysis to literature review compilation. To view a list of past award recipients and their project topics, click below.

Program Expenses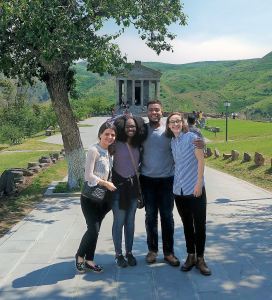 MHIRT is 100% supported by NIH and is a fully funded program. All program-related expenses are covered for the students during their time abroad, plus a small stipend for living expenses. Covered expenses include:
Roundtrip airfare
Stipend: $1,200 per month
Housing
International Health Insurance (CISI)
University of Iowa tuition and fees
Visa fees (when necessary)
Additionally, students may take advantage of post-internship benefits including fully-funded travel to a domestic conference if your MHIRT project abstract is accepted. MHIRT will also cover the cost of research poster printing fees.

Program Requirements
Students must complete the Human Subject Protections online course (Biomedical IRB-01) on the ethical and responsible conduct of research prior to the internship departure date, which is the CITI online course offered through the 
University of Iowa Institutional Review Board & Human Subjects Office web site
.
Students planning to conduct research with human subjects and graduate students who are designing their own project must designate a faculty mentor from the University of Iowa. This faculty mentor will serve to oversee student activities and provide academic counsel and support while the student is conducting the internship abroad.
Should a participant choose to conduct research of their own design involving human subjects (rather than participate in an ongoing, pre-approved project coordinated by the international host institution), s/he must complete an IRB application and receive IRB approval prior to departing for the internship. Note: this process can be lengthy! You must also receive approval from your international site BEFORE you can apply to the University of Iowa. If you are considering conducting research with human subjects, please contact the MHIRT office as soon as possible for further information about this process.
Students must submit a ten-page paper describing their research projects or internship experiences at the conclusion of their internships.
Students must complete a program evaluation, both written and in person, with a MHIRT staff member.
Students must comply with mandatory pre-departure activities, such as orientations and trainings in the spring semester preceding departure.
After the internship, students are encouraged to present their research results, such as a poster or oral presentation, in a public forum on campus or at a national conference. Funding is available to pay for the cost of printing a research poster and to attend a domestic conference if you abstract is accepted.
Any publications resulting from research supported by the MHIRT internship award must be in compliance with the NIH Public Access Policy