UI uses predictive modeling to forecast student enrollment
By Anne Easker
Published on January 5, 2016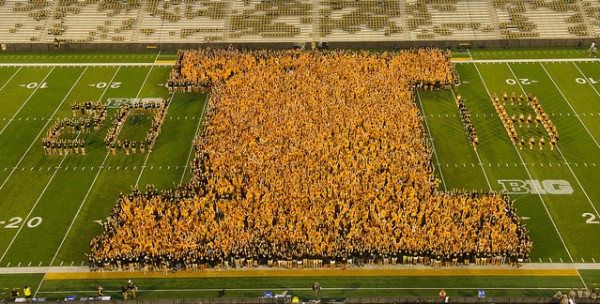 No one has yet invented a crystal ball to forecast the future, but data can be used to help predict outcomes. Predictive models perform Google searches, recognize faces in Facebook photos, and keep self-driving cars on the road. Even the post office uses predictive models: handwritten addresses are read by a machine that determines what address the writing most likely corresponds to.
At the University of Iowa, predictive models are now used to forecast undergraduate student enrollment. The project is a joint effort between the Office of Admissions and two professors from the Center for Public Health Statistics in the College of Public Health. This method of modeling predicts outcomes based on measurable data.
Tracking student interest
In this case, the measurable data comprises all the information the university has about students who might be interested in attending the University of Iowa, which it can quantify to determine a student's likelihood of attending.
Information includes things like home state, distance from the university, distance from Iowa State University and the University of Northern Iowa, grade point average, ACT scores, and interest data from ACT such as whether a student is more interested in a public university or a private liberal arts school.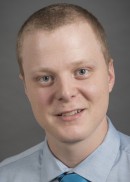 "We're using just about anything that could plausibly be related to student attendance that can be measured over many years," says Grant Brown, assistant professor of biostatistics in the College of Public Health.
Brown, who has a background in epidemic modeling and has been interested in the predictive side of statistics for a long time, created the enrollment forecasting models along with visiting biostatistics professor Knute Carter.
The models are revised repeatedly over the course of the year as the university gains more information, such as whether a student visits campus or not.
"As the enrollment period goes on, our estimates are further and further defined," Brown says.
A tailored approach saves money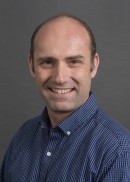 Michael Hovland, who is in charge of the project from the enrollment side, started at the UI in September 2014 as the director of enrollment management data analytics. He quickly decided predictive modeling was one of the first things he wanted to pursue in his new position.
"It's very expensive to recruit students who are not going to enroll," Hovland notes. "Sending a printed publication is very costly. Predictive modeling helps you reduce the size of the mailing list so you can save a great deal of money."
Hovland stresses that the numbers must be used as a starting place. The data cannot tell how strategically important some students are to the university, given its diversity needs and desire for the highest ability students. Some students with a low likelihood of enrollment may be extremely important to target with recruiting materials.
The data allows the university to target its recruitment efforts based on each student's individual information. If a student is already very likely to enroll, it might be more efficient to send an email, whereas a student with lower probability of enrollment but high strategic importance may receive a printed publication.
"The predictive modeling is built on what the enrolled class looked like last year," says Hovland. "It tells you what's likely to happen unless we behave differently. We don't want to work with the data by itself because it's not going to allow us to shape the class or have a different enrollment next year or three years from now."
In addition to identifying individual enrollment probability for each student, predictive modeling provides overall enrollment forecasting for the university. Gaining more accurate predictions on final enrollment is helpful to the university for determining financial aid costs and housing needs.
Focusing efforts
The project started in November 2014, and Hovland says it's already exceptionally useful.
"It's been accurate, and it's allowed us to focus our efforts," Hovland says. "We're integrating it more with our marketing to significantly reduce how many recruiting pieces we print and mail, which will have a lot of effect moving forward."
Hovland says the models created by Brown and Carter are extremely sophisticated, and he believes the same approach could be used in many ways across campus.
"What we've done so far has already been used effectively for the fall, but we haven't reached the limit of what we could accomplish with these techniques," Brown says. "We would like to provide student-specific suggestions. We'd like to provide projections for specific departments and help them meet their own admissions goals."