Baquero honored with UI Diversity Catalyst Award
Published on May 2, 2018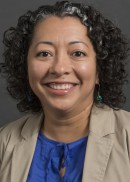 Barbara Baquero, CPH assistant professor of community and behavioral health and deputy director of the UI Prevention Research Center, was honored April 11 with a University of Iowa Diversity Catalyst Award.
Sponsored by the Chief Diversity Office and the Office of Equal Opportunity and Diversity, the Diversity Catalyst Awards are designed to honor faculty or staff members, programs or departments, and students or student organizations engaged in diversity initiatives during the previous academic year that have promoted the development of an inclusive, diverse campus community at the University of Iowa.
Baquero conducts community and behavioral health research guided by the community-based participatory research principles and the social-ecological framework. The focus of her research has been on reducing and eliminating health disparities for Latino immigrants in the U.S. through identifying, understanding, implementing and evaluating interventions that incorporate social, cultural and structural factors associated with obesity and chronic disease prevention and control. She is also a member of the Health Equity Advancement Lab (HEAL), which promotes equitable health through research, practice, and community engagement, with a particular emphasis on communities in the state of Iowa.
Congratulations, Barbara!