2016 Cancer in Iowa report issued
Published on March 30, 2016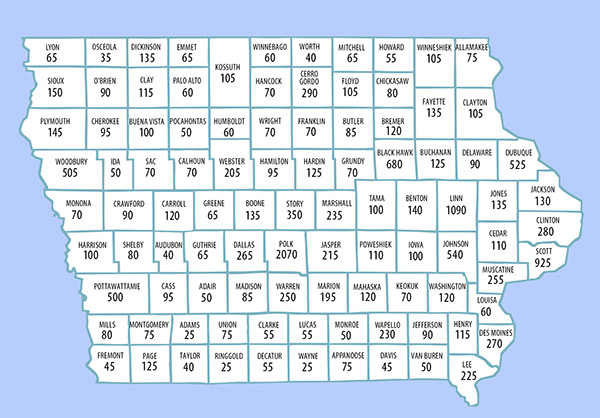 The latest annual report on cancer in Iowa estimates 16,600 new cancers will be diagnosed among Iowa residents in 2016. In addition, an estimated 6,400 Iowans will die from cancer, according to the "Cancer in Iowa: 2016" report released March 30 by the State Health Registry of Iowa, based in the University of Iowa College of Public Health.
"Lung cancer continues to be the most common cause of cancer death for both males and females," says Mary Charlton, Ph.D., assistant professor of epidemiology at the UI College of Public Health. "It will be responsible for one out of every four cancer deaths in Iowa."
According to Charlton, breast cancer will remain the most common type of cancer diagnosed among females, while prostate cancer remains the most common type among males. However, prostate cancer rates have been declining, likely due to recommendations against prostate specific antigen (PSA) screening by the U.S. Preventive Services Task Force.
The report, based on data from the Iowa Cancer Registry and the Iowa Department of Public Health, is available online on the registry's website, or by calling the registry at 319-335-8609. The report includes county-by-county statistics, summaries of new research projects, and a section focused on cancer among adolescents and young adults.
Cancer is the leading cause of disease-related death in the adolescent and young adult (AYA) population in the U.S. (defined as people between ages 15 and 39). Only accidents, suicide, and homicide claim more lives than cancer in this age group. (Read the full Iowa Now story)
Additional Media Coverage
Iowa looks to focus cancer treatment and support for teens, young adults (The Gazette)
New report projects 16,600 Iowans will be diagnosed with cancer in 2016 (KCRG)
Number of estimated cancer cases drop slightly (Radio Iowa)
Report: More young adults, adolescents get cancer (Press-Citizen)
Cancer report highlights 2016 cases and young adult cancer (KGAN)
Press conference video
For video from the press conference presentations, contact mitchell-overton@uiowa.edu