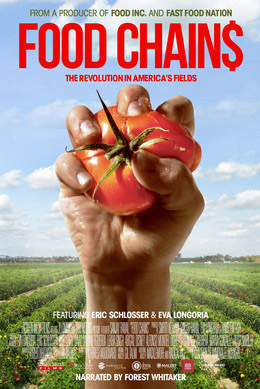 In recognition of National Hispanic Heritage Month, the College of Public Health will host two screenings of the documentary film Food Chains. The screenings are sponsored by the CPH Diversity and Inclusion Committee and the UI Latino Council.
Monday, October 2
CPH Spotlight Series: Partial Screening and Panel Discussion
12:30 – 1:30 p.m.
N120 CPHB
A segment of the film will be shown followed by a panel discussion.
Lunch will be provided. Please RSVP by emailing cph-spotlight@uiowa.edu
Corrected date:  Thursday, October 12
Full Screening
5:30 p.m.
N110 CPHB
A reception will follow in the atrium. Admission is free and open to the public.
About the Film
There is more interest in food these days than ever, yet there is very little interest in the hands that pick it. Farmworkers, the foundation of our fresh food industry, are routinely abused and robbed of wages. In extreme cases they can be beaten, sexually harassed or even enslaved – all within the borders of the United States.
Food Chains reveals the human cost in our food supply and the complicity of large buyers of produce like fast food and supermarkets. Fast food is big, but supermarkets are bigger – earning $4 trillion globally. They have tremendous power over the agricultural system. Over the past 3 decades they have drained revenue from their supply chain, leaving farmworkers in poverty and forced to work under subhuman conditions. Yet many take no responsibility for this.
In this exposé, an intrepid group of Florida farmworkers battle to defeat the $4 trillion global supermarket industry through their ingenious Fair Food program, which partners with growers and retailers to improve working conditions for farm laborers in the United States.
Individuals with disabilities are encouraged to attend all University of Iowa-sponsored events. If you are a person with a disability who requires a reasonable accommodation in order to participate in this program, please contact the College of Public Health in advance at (319) 384-1500. This film has captioning available.