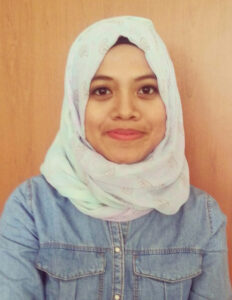 Cynthia Febrina Maharani, a University of Iowa doctoral student in the Department of Occupational and Environmental Health, has been awarded a 2020-21 International Doctoral Fellowship by the American Association of University Women (AAUW).
The AAUW fellowship program recognizes outstanding doctoral students for their academic achievement, scholarly promise, and demonstrated commitment to women and girls. The program aims to tackle barriers women face in education, particularly the burden of student debt.
"My research interests are to improve occupational safety and health among small and medium businesses in Indonesia which employ mainly women and young workers," says Maharani. "This fellowship has been really helpful for me to accomplish my academic degree and give me a head start on my journey toward accomplishing my academic goals and career aspirations."
Two faculty members in the Department of Occupational and Environmental Health — Associate Professor Carri Casteel and Professor Diane Rohlman — serve as Maharani's academic advisors.
"I am very grateful to work with Dr. Casteel and Dr. Rohlman as they support my professional as well as personal aspirations," Maharani says. "The University of Iowa has been one of the best places to do public health research."
Founded in 1881, AAUW is one of the world's leading supporters of graduate women's education. For the 2020-21 academic year, the organization awarded a total of $3.5 million through seven fellowships and grants programs to more than 200 scholars, research projects, and programs.
More information about Maharani and other fellowship awardees is available in AAUW's online directory.