Dedicated to Making a Difference
Published on June 22, 2017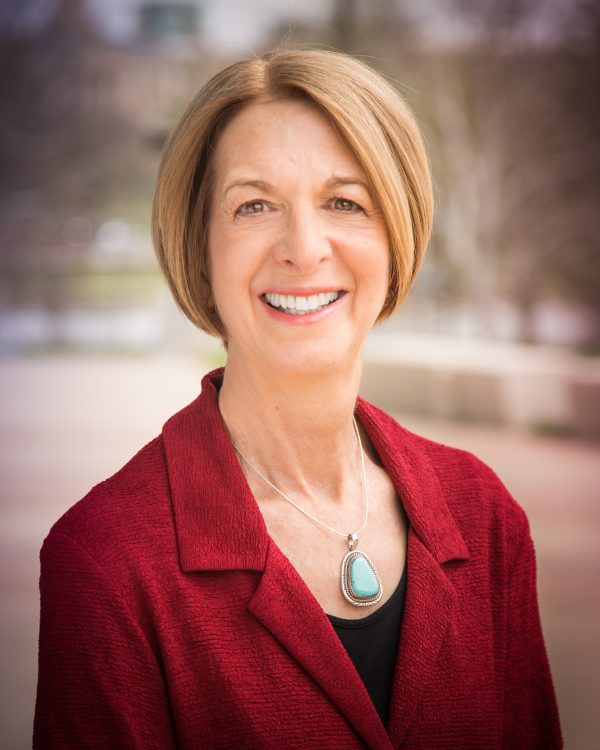 Sue Curry stepped down as dean of the College of Public Health on April 1, 2017, to begin a new leadership role as interim executive vice president and provost of the University of Iowa.
Appointed College of Public Health dean in 2008, Curry oversaw a number of key milestones in the life of the young college, which will mark its 18th anniversary in August. Curry, who also served as a Distinguished Professor in the Department of Health Management and Policy since 2008, praised faculty, staff, students, and alumni for their many contributions to the college and its ongoing success.
"As dean of the College of Public Health, I had the privilege to lead a highly productive and inno­vative unit dedicated to making a difference and creating brighter futures for people everywhere," Curry says. "I'm proud of the many accomplish­ments we achieved together over the past nine years. The strength and vibrancy of the college's academic, research, and engagement programs set the college on a path for continued growth, development, and distinction."
Expanding Education
Major accomplishments during Curry's tenure include guiding the development of the college's burgeoning undergraduate programs, including expanding undergraduate course offerings, estab­lishing undergraduate-to-graduate combined degree options, and in 2016 launching new BA and BS degrees in public health.
"Sue's advocacy of the undergraduate program and of collaborative teaching elevated our college as an educational leader," says Tanya Uden-Holman, CPH associate dean for academic affairs. "She engaged our faculty in teaching undergraduate courses and fostered interdisci­plinary team-teaching across departments. For the undergrad-to-grad degrees, Sue led collaborations not only with departments on campus, but also formed partnerships with small liberal arts institutions beyond the University of Iowa, which is really unique at the national level."
Curry encouraged new multidisciplinary research initiatives that connect investigators across and beyond the UI campus, established and developed the Board of Regents-approved Iowa Institute of Public Health Research and Policy, and elevated the college's national rankings. She oversaw completion and dedication of a permanent home for the college, which currently serves more than 400 graduate and undergraduate students.
Curry also championed the implementation of interprofessional education in the health sciences at the UI.
"The College of Public Health took a lead­ership role to bring together the interprofessional education steering committee on campus," says Uden-Holman. "The university now has an inter­professional education course that attracts more than 600 first-year students from across the health sciences each year."
Bringing People Together
One of Curry's strengths as dean was her skill in bringing people together. "Sue's ability to connect and engage with people made the college about community," Uden-Holman says. "She made sure everybody had the chance to participate."
That same skill also helped Curry forge inno­vative partnerships with communities throughout Iowa. Several of those partnerships centered around the arts, including collaborations with the Working Group Theatre and Hancher.
"The first time I met Sue I immediately felt engaged by her spirit of collaboration," recalls Chuck Swanson, executive director of Hancher. "Soon we discovered the similarity in the missions of the College of Public Health and Hancher, and we embarked on several ambitious and meaningful projects. The great work continues due to her commitment and belief in working together and creating strong partnerships across the University of Iowa campus."
Another of Curry's initiatives, the Business Leadership Network, reaches out to businesses and communities in Iowa to form collaborations around public health needs identified by local residents.
Continuing Excellence
The college also saw successful growth in philan­thropy. At the conclusion of the recent For Iowa. Forever More: The Campaign for the University of Iowa, more than 1,913 donors had contributed a total of $40 million to the UI College of Public Health, surpassing its $25.8 million goal.
"Dr. Curry demonstrated strong leadership in the College of Public Health," says UI President Bruce Harreld about Curry's transition to interim provost. "I am pleased she was willing to take on this important role for the University of Iowa as we review our academic organizational structure and begin to implement our strategic plan."
"I'm excited to serve the university in the role of interim provost," Curry adds. "I look forward to working with colleagues across campus to ensure our university's continued academic excellence and national leadership.
"I'm also very pleased that the College of Public Health will be led on an interim basis by Dr. Mueller, who brings outstanding leadership and knowledge of the college to the position," Curry continues. "The college is an extraordinary example of a high-performing organization, and it has been my honor and privilege to serve as dean."
This story originally appeared in the spring 2017 issue of InSight.