Diversity, equity, and inclusion liaison for students
Published on June 9, 2020
During the College Town Hall on March 2, 2019, and subsequent Diversity, Equity, and Inclusion (DEI) Committee meeting, collegiate leaders heard from students that a DEI point of contact for students was needed in the college. Scot Reisinger, director of student services in the College of Public Health, is serving as the interim diversity, equity, and inclusion liaison for students.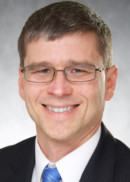 Because of differences in power, students may have a hard time bringing up problems with the people who grade their work or administer their programs of study. Scot is in a unique position to serve as a trustworthy sounding board and accessible guide to the resources and processes in the college and across the campus. He can be reached at scot-reisinger@uiowa.edu or (319) 467-1875.
In this interim role, Scot will:
respond to diversity, equity, and inclusion-related issues among the student body as they arise, serving as the point person for student concerns and then providing resources and referrals to students specific to their needs and issues;
serve as the subject-matter expert in bias awareness for CPH students;
identify opportunities to implement student diversity-related activities;
continue to find ways to cultivate our college climate of inclusion and respect for all students;
serve on the CPH DEI Committee;
help ensure the academic success of our student population; and
collaborate with collegiate leaders on our commitment to diversity, equity, and inclusion.
The college is in the process of permanently hiring an individual to fill this important role.
As a reminder, Associate Dean for Faculty Affairs Jeff Dawson and Human Resources Director Kay Shie serve in similar capacities for faculty and staff, respectively.
The college continues to be dedicated to hearing and learning from all students, faculty, and staff experiences.