HMP, College ranked among nation's top public health graduate programs
Published on April 23, 2019
HMP leaders reflect on the MHA program's latest rise in rankings.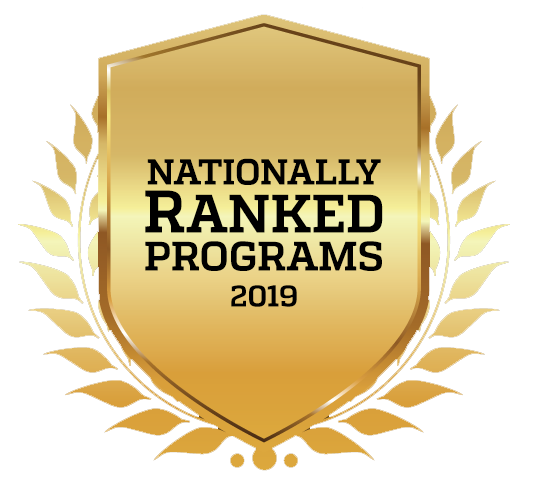 The University of Iowa College of Public Health has once again been recognized as one of the nation's top graduate schools in public health by U.S. News and World Report, placing No. 19 among 177 schools and programs in the latest rankings released in March 2019. The college's Department of Health Management and Policy and its Master of Health Administration (MHA) program have extra reason to celebrate, climbing two spots to No. 8 among health care management programs nationwide in the latest report.
The MHA program has enjoyed a steady rise in rankings over the past decade, notes Keith Mueller, Gerhard Hartman Professor and head of the Department of Health Management and Policy. When Mueller joined the University of Iowa faculty in 2010, the MHA program was ranked No. 14 by U.S. News. In 2015, it advanced several spots, tying for 10th place. In 2019, the program now sits alone at No. 8.
Mueller credits the leadership of MHA program director Dan Gentry, Executive MHA program director Ian Montgomery, and former MHA program director Tom Vaughn for the program's ascension. "All have brought different strengths to the program," Mueller says.
Gentry highlights several factors that fuel the program's success, including high-quality students, continuous quality improvement of the curriculum, and strong engagement among students and alumni.
He adds that another important element is "our willingness to share everything we do and the lessons we've learned — particularly with regard to competency-based education and assessment — with the rest of the health administration education field."
In additional to the traditional MHA track, the department offers the Executive MHA track designed for working professionals. Montgomery notes that some of the EMHA's unique aspects include students drawn from diverse clinical and health care management backgrounds, two campuses where courses are offered (Des Moines and Iowa City), and a high percentage of expert practitioner faculty.
"The EMHA track provides a very accommodating avenue for established professionals to earn exactly the same MHA degree as traditional-track students," Montgomery says.
Students leave the program well prepared, with close to 100 percent of EMHA and MHA students obtaining employment within three months of graduation.
Vaughn lists several things that he believes help Iowa students stand out to potential employers and that foster success early in their careers: exposure to the practical aspects of health care management through key courses that are taught by practitioners, opportunities to interact with and learn from a strong alumni network, and access to a supportive faculty who are focused on student success.
Mueller also points to the important contributions of student services and academic program support staff. "Those roles are really important in recruiting top students and helping them to succeed," he says.
While there is much to celebrate, the department and program aren't resting on their laurels. Gentry says some of the future aspirations for the MHA program are to continue to use the Quality Improvement Committee to make rapid improvements to both the traditional and executive tracks of the program, to provide more graduate assistantships and scholarship funding for MHA students, and to achieve excellence across all aspects of the MHA program with regard to diversity, equity, and inclusion — including applications and admissions, the curriculum, mentoring, alumni engagement, and community interaction.
"I feel really good about the changes we made to our mission, vision, and values statements during academic year 2016-17, changes that have propelled us forward in a very positive way," Gentry says. "Our vision continues to emphasize recognized excellence, but first and foremost recognition from our alumni and students. Additionally, our values continue to prioritize respect, accountability, integrity, service, and empathy, but now explicitly state our commitment to diversity and inclusion."
Mueller is proud of the students, faculty, staff, and alumni who make the department and its programs so outstanding.
"We have more than a thousand alumni around the country in health care or health care-related positions," says Mueller. "The proof of the program's success is the success of our alumni throughout their careers."
"Graduates of all our programs are making a positive impact in health throughout the United States and around the world," adds Edith Parker, dean of the College of Public Health. "We could not be more proud of the outstanding work they are doing and pleased to uphold the tradition of excellence that they have established."