Ikoba awarded Sprince Zwerling Award for Social Justice
Published on April 27, 2021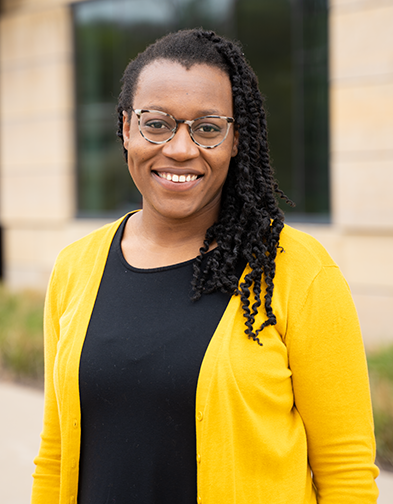 MPH student Bikere Ikoba has been awarded the 2021 Sprince Zwerling Award for Social Justice. This honor is given to a distinguished, well-deserving graduate student in the Department of Community and Behavioral Health who is pursuing an interest in addressing health disparities and alleviating social injustice. She was presented with the award at the virtual HEAL Summit on April 23.
Ikoba, who anticipates graduating in May 2021, has interests in health disparities that occur in global health settings, in the maternal and child health field, and among immigrant and refugee communities. During her time in the MPH program, she has worked as a Graduate Research Assistant with the Native Center for Behavioral Health as well as with Problem Management Plus (PM+) — an evidence-based humanitarian mental health intervention.
She also has completed several internship experiences, including a summer internship as an Advocacy Committee intern for the Iowa Public Health Association. In this role, she cultivated her ability to use data to tell stories around complex topics, including creating a series of one-page summary infographics as part of a legislative advocacy toolkit.
Ikoba built on those skills through her work with the Catherine McAuley Center's Refugee and Immigrant Services team as part of her applied practicum experience. She used data-driven health communication strategies to co-develop organizational resources such as COVID-19 vaccination fact sheets for local refugee communities.
In addition to her community work and volunteer service, Ikoba is a member of the college's Maternal and Child Health Student Interest Group.
"Throughout my time in the University of Iowa Master of Public Health Program, I have continued to pursue and step into numerous research positions, non-academic activities, and academic coursework that will enable me to leave this program better equipped with the skills and experiences necessary to embody a lifestyle of advocacy both professionally and personally," Ikoba wrote in her scholarship application essay. "Ultimately, my hope is that these gained skills will enable me to advocate with and for communities through work with not-for-profit organizational settings in the future, at either the local, national, or international scale."
The award is endowed by a gift from Nancy Sprince, professor emerita of occupational and environmental health, and her late husband, Craig Zwerling, professor emeritus of occupational and environmental health. Drs. Sprince and Zwerling served in senior leadership roles in the UI College of Public Health during a period spanning more than 20 years.
Photo by Katy Stites