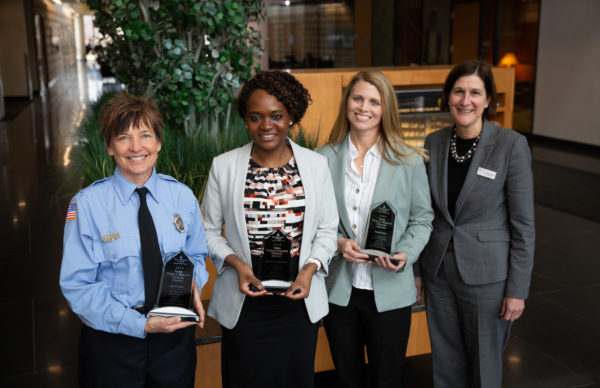 The University of Iowa College of Public Health honored three Iowa public health leaders whose contributions in diverse sectors throughout the state are helping to promote better health and prevent disease.
The 2019 Iowa Public Health Heroes Awards were presented to Angela Drent, Health Promotion Specialist at Siouxland District Health Department in Sioux City; Nafissa Cisse Egbuonye, director of the Black Hawk County Health Department in Waterloo; and Julie Popelka, public education specialist, firefighter, and paramedic for the Cedar Rapids Fire Department in Cedar Rapids.
The award recipients were honored Wednesday, Feb. 5, at a Spotlight Series event in the College of Public Health Building. The recipients gave brief remarks and participated in a panel discussion and Q&A with the audience.
Since 2012, the College of Public Health's Iowa Public Health Heroes Award program has recognized exceptional efforts by individuals from diverse career paths whose work improves health and wellness throughout Iowa. Award recipients are nominated by their peers in the Iowa public health practice community.
"The health of all Iowans is enhanced through the leadership and service of so many dedicated professionals working in the public health sector," says Edith Parker, dean of the College of Public Health. "We are proud to honor these three individuals and to recognize their outstanding work in the communities they serve."