Mark Vander Weg to lead Department of Community and Behavioral Health
Published on June 12, 2020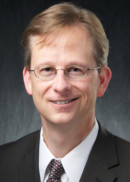 Dr. Mark Vander Weg has been named the head of the University of Iowa Department of Community and Behavioral Health. His appointment begins July 1, 2020.
Vander Weg is currently an associate professor of internal medicine at the University of Iowa Carver College of Medicine and holds a secondary appointment in the Department of Psychological and Brain Sciences in the UI College of Liberal Arts and Sciences. He is also a core investigator in the Center for Access & Delivery Research and Evaluation (CADRE) at the VA Health Care System in Iowa City.
His research primarily focuses on promoting health behavior change, with a particular emphasis on the prevention and treatment of tobacco use and dependence. Additional research interests include rural health and cancer prevention and control.
"Dr. Vander Weg will provide outstanding leadership for the faculty, students, staff, and alumni in the Department of Community and Behavioral Health," says Edith Parker, dean of the College of Public Health. "Throughout his distinguished career at the University of Iowa and elsewhere, he has excelled in research, education, and service to his profession. His expertise in the psychological and behavioral aspects of community health issues will serve him well as he works with our students and faculty to understand the complexities of health behavior and change. In addition, he has been an exceptional teacher and mentor. I am delighted to welcome Mark to this leadership role in the College of Public Health."
He has taught advanced classes in health psychology and behavioral medicine and has served on numerous departmental, collegiate, and university committees. He has been a member, co-chair, or chair of a number of committees and workgroups and has served as a community consultant for a variety of organizations.
"I am truly honored to be joining the University of Iowa Department of Community and Behavioral Health," Vander Weg says. "The department has a distinguished history of excellence in social and behavioral science focused on health promotion and disease prevention, with a strong commitment to health equity and social justice. The department, and the public health community more broadly, is uniquely positioned to help address the health and social challenges currently facing our communities, and I am excited to be partnering with them to support the health and well-being of all Iowans."
Vander Weg earned a B.S. in psychology from Hope College in Holland, Michigan, and an M.S. in psychology and a Ph.D. in clinical psychology from the University of Memphis. Prior to his appointment to the UI Carver College of Medicine in 2006, he served as assistant professor of psychology at the Mayo Clinic College of Medicine in Rochester, Minnesota. He is a Fellow of the Academy of Behavioral Medicine Research and a member of the Phi Beta Kappa and Phi Kappa Phi honor societies.
He will succeed Professor Rima Afifi, who has served as interim head of the Department of Community and Behavioral Health since 2018 when Edith Parker was named dean of the college. Parker served as the head of community and behavioral health from 2010 to 2018.