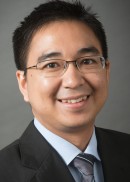 Congratulations to Muska (Mochamad) Nataliansyah for receiving the Best Student Poster Award at the 2020 AcademyHealth Annual Research Meeting.
Nataliansyah, a doctoral student in health management and policy, received the award for his work entitled "Managing Innovation: A Mixed Methods Study of Telehealth Implementation," co-authored with Kim Merchant, Fred Ullrich, Xi Zhu, Nick Mohr, and Marcia Ward.
Read more about the study.