New toolkit helps pharmacists increase access to COVID-19 vaccinations
Published on May 24, 2022
Pharmacists and other vaccine providers have played a major role in the fight against COVID-19. However, many Iowans who are eligible to receive the vaccine have not yet been vaccinated, including people who face barriers to accessing to the vaccine or those who lack confidence in or fear vaccination.
A new online toolkit, "Pharmacists' Guide to Increasing Equitable Access to COVID-19 Vaccines," gives vaccine providers the knowledge, strategies, and resources needed to address the factors inhibiting vaccine access and confidence.
The free toolkit includes an in-depth publication, videos, and supplemental resources. It focuses on issues relevant to rural and micropolitan (urban areas with a population of at least 10,000 but fewer than 50,000 people) communities in Iowa. The resources can be used by pharmacists as well as other vaccine providers, administrative staff, public health departments, or anyone else supporting the effort for vaccine equity.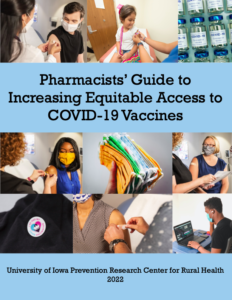 The objectives of the toolkit are for users to:
1. Communicate that COVID-19 vaccines are free of charge to all people living in the U.S., regardless of immigration or health insurance status.
2. Identify stressors and ongoing access issues around vaccination for socially vulnerable populations.
3. Know the documents that can be requested but are not required for an individual to receive a vaccine.
The toolkit was developed by the University of Iowa Prevention Research Center for Rural Health (UI PRC-RH) in partnership with Iowa Immunizes, Iowa Public Health Association, and Iowa Pharmacy Association.
"It's so important that once someone makes the decision to get vaccinated, they don't face any barriers to getting vaccinated," says Nikki Gauthreaux, a research assistant with the UI PRC-RH. "This can affect how people make future decisions about vaccines or medical care in general. We are especially concerned about people who might have limited English proficiency, have a disability, or don't have health insurance or U.S. identification."
All of the materials can be accessed on the UI Prevention Research Center for Rural Health website: https://prc.public-health.uiowa.edu/pharmacists-guide-to-increasing-equitable-access-to-covid-19/.