Rural Telehealth Research Center awarded continued funding
Published on August 20, 2020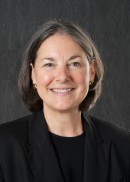 The Rural Telehealth Research Center (RTRC) directed by Marcia M. Ward, professor of health management and policy in the University of Iowa College of Public Health, has been re-funded for another four years by the Health Resources & Services Administration (HRSA).
First funded by HRSA in September 2015, this announcement – https://www.hrsa.gov/rural-health/fy20-awards – shows the University of Iowa (where RTRC is based) is one of only two Telehealth Focused Rural Health Research Centers awards, effective September 2020.
RTRC will continue to conduct research to expand the evidence base for rural telehealth services.  RTRC is a collaboration of the University of Iowa, University of North Carolina – Chapel Hill, and University of Southern Maine.