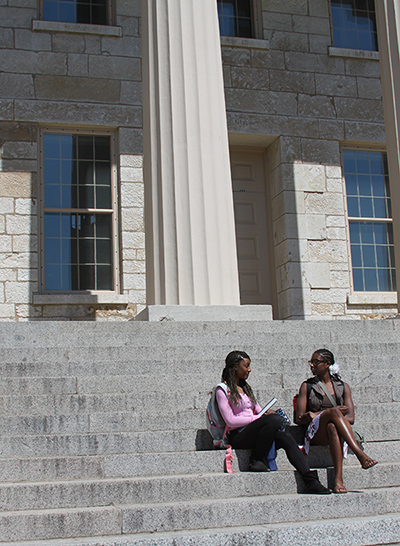 The University of Iowa recently received a $415,000 grant from the Robert Wood Johnson Foundation to help prepare students from underrepresented groups for careers in health care.
The Summer Health Professions Education Program (SHPEP) is a free, six-week summer enrichment program focused on improving access to information and resources for freshman or sophomore college students interested in the health professions. SHPEP's goal is to strengthen the academic proficiency and career development of students underrepresented in health care to prepare them for success in a broad array of health professions schools.
These students include, but are not limited to, individuals who identify as African American/Black, American Indian and Alaska Native, and Hispanic/Latino, and who are from communities of socioeconomic and educational disadvantage.
The Carver College of Medicine, College of Public Health, College of Dentistry, and College of Pharmacy are spearheading the program on the UI campus.
"We're excited to introduce students to public health," says Tanya Uden-Holman, associate dean for academic affairs in the College of Public Health. "It's a collaborative, multidisciplinary field that touches almost every aspect of daily life and makes a real difference in the health of communities."
SHPEP offers students a variety of academic and career experiences:
Academic enrichment in the basic sciences and quantitative topics.
Learning and study skills development, including methods of individual and group learning.
Clinical exposure through small group rotations in health care settings, simulation experiences, and seminars.
Opportunities to learn about interprofessional education and how different professions collaborate as health care teams.
Career development sessions directed toward exploration of the health professions, the admissions process, and the development of an individualized education plan.
A financial literacy and planning workshop that informs students of financial concepts and strategies.
A health policy seminar series to expose scholars to a larger view of health care, health systems, and the social determinants of health.
February 1, 2017 – Early Admission Deadline
March 1, 2017 – Regular Admission Deadline
The program will run at the University of Iowa June 19 through July 28, 2017.
For more information or to apply online, visit www.shpep.org.
Eligibility Requirements
All students who meet the Summer Health Professions Education Program eligibility requirements are encouraged to apply. Applicants must meet the following requirements:
Be a college freshman or sophomore at the time of application
Have a minimum overall GPA of 2.5
Be a U.S. citizen, a permanent resident, or an individual granted deferred action for childhood arrivals (DACA) status by the U.S. Citizenship and Immigration Services
Not have previously participated in the program.
Other factors for consideration include that a student:
Identifies with a group that is racially/ethnically underrepresented in the health professions;
Comes from an economically or educationally disadvantaged background; and/or
Has demonstrated an interest in issues affecting underserved populations.
Submits a compelling personal statement, diversity essay, and a strong letter of recommendation.