Survey gathers Iowa LGBTQ health data
Published on November 13, 2018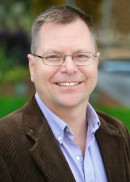 A new report from a team of Iowa researchers summarizes the findings of a survey conducted last year about the health of lesbian, gay, bisexual, transgender, and queer (LGTBQ) individuals in Iowa. The project was a collaborative of faculty and staff from the University of Iowa College of Public Health, One Iowa (an advocacy organization), the Iowa Cancer Consortium, and Des Moines University.
Paul Gilbert, lead researcher on the project and assistant professor of community and behavioral health at the University of Iowa, says that while there is national data that suggests important health disparities for LGBTQ populations, there has been scant attention to LGBTQ health in Midwestern states in general and very little available data on Iowa in particular.
"This project sought to develop detailed information that would inform future health services and research efforts," Gilbert says.
Additional Media Coverage
Statewide research attempts to fill lacking LGBTQ data on health (The Gazette)
LGBT Iowans not widely out to doctors (The Blade)