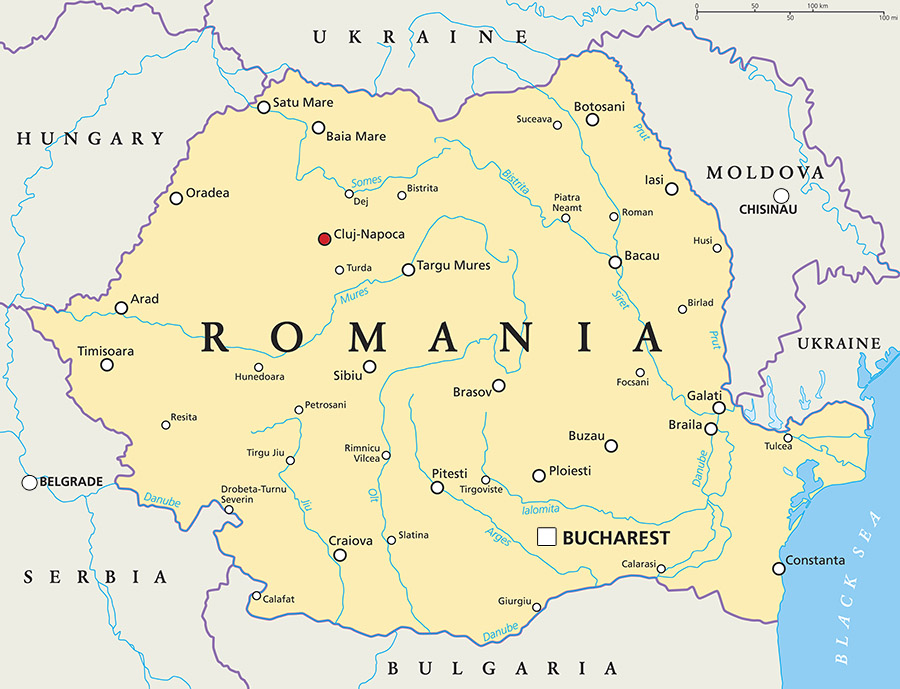 On the edge of the thriving city of Cluj, Romania, is the decidedly not thriving community of Pata Rât. Located at Cluj's former city dump, it's filled with ramshackle houses, little indoor plumbing, pollution, and dirt roads that quickly turn to mud.
The population is about 1,500 people and almost all of them are Roma, otherwise known by the pejorative term gypsies. They are scattered throughout Europe and are subject to discrimination wherever they live. Pata Rât is an example of this. Many of its residents, about 350 people, once lived in a residential neighborhood in Cluj until the government evicted them and forced them to move to a landfill.
Health Care Disparities
Far from jobs and schools in the city—the nearest bus stop is about a mile and a half away, on the other side of a rail yard—and forced to live in a literal dump of a neighborhood, the people of Pata Rât have suffered significant health issues as a result. This summer, a group of 13 University of Iowa students from across the campus traveled to Romania as part of the Minority Health and Health Disparities International Training Program (MHIRT), a research training internship program to encourage under-represented minorities to pursue health careers. Two of the students—Darian Thompson and Breanna Kramer—worked with the Roma population in Pata Rât, on projects led by mentors at the Cluj School of Public Health that quantifies what that impact has been and help improve the lives of the children who live there.
"They met with Roma and held focus groups to determine what the health care disparities are between the Roma and the general Romanian population," says Rema Afifi, professor of community and behavioral health in the College of Public Health who coordinated the training grant. She notes that the Roma—who make up about 8 percent of Romania's population—have much higher rates of poor health outcomes than the general population as a result of the social, economic, and environmental conditions that surround them.
The students spent ten weeks in Romania, guided and mentored by researchers at the Cluj School of Public Health at Babeș-Bolyai University who have been monitoring health issues among the Roma for many years. They performed field work gathering data, and computational work analyzing the data. What they found was a largely homogenous population of white, ethnic Romanians with little acceptance of minorities such as the Roma.
Discriminatory Attitudes
Darian Thompson, one of the students participating in the MHIRT research internship, points to surveys that show 56 percent of Romanians do not feel comfortable living near Roma and 38 percent would not agree to have a Roma as a friend. While Romania's unemployment rate is 8 percent, among the Roma, it's 34 percent, and most of those who are employed work in unskilled, low-wage jobs.
Thompson is an African-American and so he's seen and felt racism in the United States. What he saw directed at the Roma in Romania less subtle and more abrasive than the discrimination directed against minorities in the U.S.
"I was surprised by how openly discriminatory the population was toward the Roma," says Thompson, a junior pre-med major from Cedar Rapids. "I realized that while we still have a lot of issues to work out in the U.S., we're still pretty accepting of minorities compared to people in other parts of the world."
Thompson spent most of his ten weeks of the project analyzing data, comparing past statistics to newly gathered data while looking for changes and trends. Meanwhile, Breanna Kramer, a Master of Public Health student in the College of Public Health, was in the field, talking with the Pata Rât Roma about their health.
Helping Children Succeed
Kramer's work was focused on measuring the effectiveness of a Cluj School of Public Health program that's designed to help Roma children in Pata Rât succeed in school. Because of transportation difficulties and fear of discrimination, most Pata Rât parents keep their children in a local, segregated school in the community. But Kramer says the school is substandard and the language of instruction is their native Romani, instead of the Romanian they will need to learn to be successful.
The program helps the students by providing bus transportation to better quality schools, new clothing, access to showers, hot meals, and other assistance to better prepare them for learning. Kramer says that preliminary research suggests the program is working to fulfill family needs at a basic level.
"It's taking that weight off their parents so the kids can go to school and get the education they need," says Kramer, from Donnellson, Iowa. "But poverty and discrimination still exist, and for that to improve, large-scale institutional change needs to happen, which will take years."
Afifi says funding for the training program came from the National Institute on Minority Health and Health Disparities, a federal agency designed to lead scientific research that improves minority health and reduces health disparities through promotion and support of the training of a diverse research workforce. All 13 of the UI students who participated were from minorities underrepresented in the health sciences.