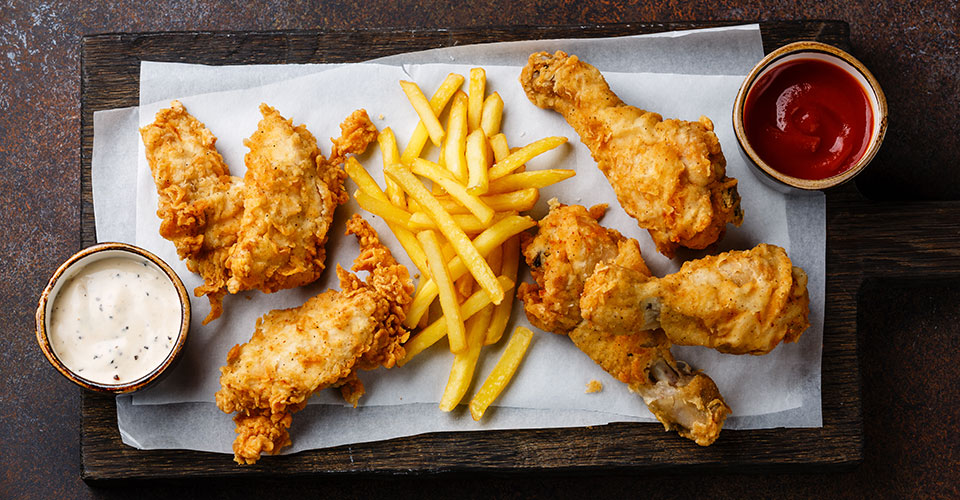 Regularly eating fried food is linked with a heightened risk of death from any cause and of heart related death among postmenopausal women, a new study led by University of Iowa College of Public Health researchers has found.
The researchers say that reducing consumption of fried foods, especially fried chicken and fried fish or shellfish, could have a positive public health impact. The study was published Jan. 23, 2019, in BMJ.
The UI College of Public Health researchers included corresponding author Wei Bao, assistant professor of epidemiology; Yangbo Sun and Buyun Liupost, doctoral research scholars in epidemiology; Linda Snetselaar, Jennifer Robinson, and Robert Wallace, professors of epidemiology; and Lindsay Peterson, assistant professor, Division of Medical Oncology, Department of Medicine, Washington University School of Medicine, St Louis.
Read the full BMJ press release…
Media Coverage
Fried Foods Tied to Heart Disease in Women (New York Times)
https://www.nytimes.com/2019/01/23/well/eat/fried-foods-tied-to-heart-disease-in-women.html
Fried Food May Be Killing You, a New Study Says (Time)
http://time.com/5509669/fried-foods-death-risk/
One serving of fried chicken a day linked to 13% higher risk of death, study finds (CNN)
https://us.cnn.com/2019/01/23/health/fried-food-fish-chicken-higher-risk-of-death-intl/index.html
Too Much Fried Food May Shorten Your Life (US News & World Report)
https://www.usnews.com/news/health-news/articles/2019-01-23/too-much-fried-food-may-shorten-your-life
Eating fried chicken weekly could lead to early death, study finds (USA Today)
https://www.usatoday.com/story/news/nation/2019/01/24/fried-chicken-could-lead-early-death-study-finds/2666912002/
Additional Coverage
https://chicago.suntimes.com/food/eating-fried-chicken-weekly-could-lead-to-early-death-new-study-finds/
https://www.ajc.com/lifestyles/health/fried-chicken-increases-risk-death-for-women-percent-study-finds/ZeDdVjDsx1KrIepBmPNbdP/
https://www.youtube.com/watch?v=pqRRFe3N8ns (CBS Miami)
https://www.youtube.com/watch?v=J-F9oWiixOY (CBS Philly)
https://www.wtnh.com/news/health/study-daily-consumption-of-fried-chicken-fish-linked-to-higher-risk-of-death-in-women/1723398838
https://www.nydailynews.com/news/national/ny-news-fried-chicken-can-be-killer-20190124-story.html
https://www.ibtimes.com/heres-what-happens-if-you-eat-chicken-fish-daily-2755619
https://www.longevitylive.com/anti-aging-beauty/fried-foods-linked-to-mortality/
http://www.everythingzoomer.com/health/2019/01/23/new-study-fried-food-increases-risk-death-among-postmenopausal-women/
https://www.heraldscotland.com/news/17381400.study-finds-women-who-regularly-eat-fried-food-are-more-likely-to-die-young/
https://medicalxpress.com/news/2019-01-fried-food-linked-heightened-death.html
https://www.dailymail.co.uk/health/article-6624285/Deep-fried-fish-chicken-increase-womens-early-death-risk-13-study-finds.html
https://www.irishexaminer.com/breakingnews/world/eating-fried-chicken-and-fish-linked-to-premature-death-899729.html
https://www.goodfood.com.au/eat-out/news/fried-chicken-the-deadliest-fast-food-for-older-women-20190123-h1ae5r
https://fox6now.com/2019/01/23/study-single-serving-of-fried-chicken-fish-associated-with-higher-risk-of-death/
https://www.ktvz.com/health/study-1-serving-of-fried-chicken-a-day-linked-to-higher-death-risk/987350475