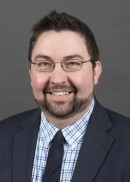 Each year, about 1 million Medicare beneficiaries who visit the emergency room find themselves held for observation rather than being admitted to the hospital. Researchers have found the rate of observation care—a hospital-based outpatient service used to evaluate and treat acutely ill patients for extended periods—has increased nationally over the past decade, and it has become a common alternative to full hospitalization. This outpatient care saves hospitals money, but does it benefit the patient?
According to Brad Wright, assistant professor of health management and policy in the University of Iowa College of Public Health, critics suggest observation care costs patients more and may result in reduced quality of care. Previous studies also point to racial and geographic variations in the use of observation care. In a national study funded by the National Institute on Aging, Wright and colleagues from Brown University and the University of Michigan will analyze Medicare claims data from 2007-2011 to determine the causes and consequences of racial and geographic disparities in observation care among Medicare patients.
"We want to see if the variation in who receives observation care occurs within or between hospitals," said Wright. "Are certain hospitals more likely to use observation? Or is there an inherent racial bias no matter which hospital you go to?"
Wright will also investigate whether observation care leads to better or worse health outcomes, examining mortality rates and how many patients return to the emergency department or get readmitted within 30 or 90 days.
"Are there important quality outcome differences?" asked Wright. "Maybe they don't get the level or intensity of services they need and end up coming back. Or are they more likely to be admitted because more observation leads to better clinical decisions?"
Wright hopes the study's findings will help inform changes in hospital policy and Medicare coverage of observation services.