Stakeholder Driven Research
The IPHRC engages in stakeholder driven research by following four key steps: survey, summarize, strategize and share. We completed our first survey of clinicians, researchers and public health professionals in the state of Iowa. A description of the how information from stakeholders is utilized is presented below.
Survey: In 2017, we surveyed clinicians, researchers and public health professionals in the state of Iowa. 131 individuals completed to the survey.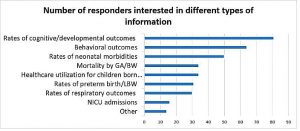 Summarize: Survey results from 131 respondents were summarized by the IPHRC team to identify and prioritize the collaborative' s research agenda. Results from the survey indicate rates of cognitive/developmental outcomes and behavioral outcomes for children in the state of Iowa are top priorities for stakeholders. Additionally linked administrative data was identified as one of the most valuable sources of research data.
Strategize:  Members of the IPHRC met to discuss how to address results from the survey using resources in the IPHRC. Based on survey results, we have developed pregnancy and birth cohorts using administrative data of children in the state of Iowa. Using this data, we will be able to complete research studies related to cognitive, developmental and behavioral outcomes.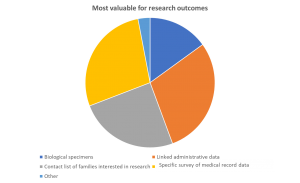 Share: After studies are complete, the IPHRC will share results and present findings at local and national meetings. We will also share findings in publications, press releases and newsletters where appropriate.
Parent Survey
The IPHRC is currently developing a survey for parents in the state of Iowa. The purpose of the survey is to collect information on the needs or parents of preterm, low birth weight and term infants. Once we have gained insight into the needs and problems of parents, we can plan research and share findings with clinicians to guide support and interventions to families where there is the greatest need. We will follow the four-step model of survey, summarize, strategize and share to develop a research agenda driven by the needs of Iowa parents.
Cell-to-society drivers of preterm birth: leveraging lived to laboratory experience
IIPHRP sponsored, Dr. Laura Jelliffe-Pawlowski as a Visiting Scholar and spotlight session's lecturer on November 27th, 2017. The lecture was well attended by students, staff and faculty from the College of Public Health in addition to other colleges on campus. The lecture provided an overview of the research Dr. Jelliffe-Pawlowski conducts and the collaborations she has with the University of Iowa's IIPHRP sponsored collaboratory, Iowa Perinatal Research Collaborative (IPHRC). Dr. Jelliffe-Pawlowski' s ability to present complex genetic research to an audience without a genetic background and her description of how her research group engages with the community and across disciplines were highly beneficial to the audience. Dr. Jelliffe-Pawlowski' s model of community engagement can be applied by students and researchers to projects not limited to genetic research in the future.
Dr. Laura Jelliffe-Pawlowski met with students and faculty in small groups during her visit to the University Of Iowa College Of Public Health. Students had the opportunity to learn about innovative research and potential careers after graduation. Due to the small group setting, students had adequate time to ask questions and discuss their own research ideas.
The IPHRC closely works with Dr. Jelliffe-Pawlowski and her research lab. Dr. Jelliffe-Pawlowski presented to members of the IPHRC her research and focused on their collaborative projects. Members of the IPHRC were able to actively engage with Dr. Jelliffe-Pawlowski and discuss questions and ideas for future collaborations.