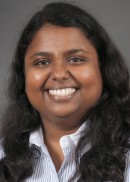 Department: Health Management and Policy
Social: LinkedIn page
Year of intended graduation: 2022
Hometown: India
Education: Bachelor of Dental Surgery (BDS), University Of Kerala; Master of Public Health (MPH), Sree Chitra Tirunal Institute for Medical Sciences and Technology.
Focal Area: Health Policy
Research interests:My primary research interests are related to healthy aging, and healthcare access and utilization among older adults. I am particularly interested in quality of life and end of life outcomes among this population. I am also interested in evidence-based policy making and evaluations with emphasis on generating credible evidence that can be translated into action.
Current activities:
 Graduate Research Assistantship with Prof. Marcia Ward on projects linked to the Rural Telehealth Research Center.
 I am also working with Prof. Kanika Arora on various research projects linked to aging, long term care and end of life outcomes.
 AcademyHealth: member, student chapter
 Forum for Medical Ethics Society (FMES), India: Member
Publications: Rising, K. L., Ward, M. M., Goldwater, J. C., Bhagianadh, D., & Hollander, J. E. (2018). Framework to Advance Oncology-Related Telehealth. JCO Clinical Cancer Informatics, (2), 1–11. doi: 10.1200/CCI.17.00156