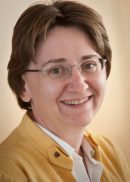 Title(s): Associate Professor, Community and Behavioral Health, Associate Professor, Communication Studies, Associate Dean, Graduate College
Department: Community and Behavioral Health
Office: N416 CPHB
Phone: (319) 335-9097
Dr. Campo's research and teaching have centered on health communication and social marketing. Her work focuses on how to encourage more informed decision making and to encourage healthy behaviors.  Most of her work has focused on reducing risk through identifying and attempting to influence individual, family and health care provider variables that impact behaviors in a wide variety of populations, particularly those with health disparities (rural, ethnic minorities, LGBT, low income).
Courses Taught
Health Communication
Persuasion and Health
Health Communication Campaigns
Research Interests
Health communication
Persuasion
Campaigns
Background