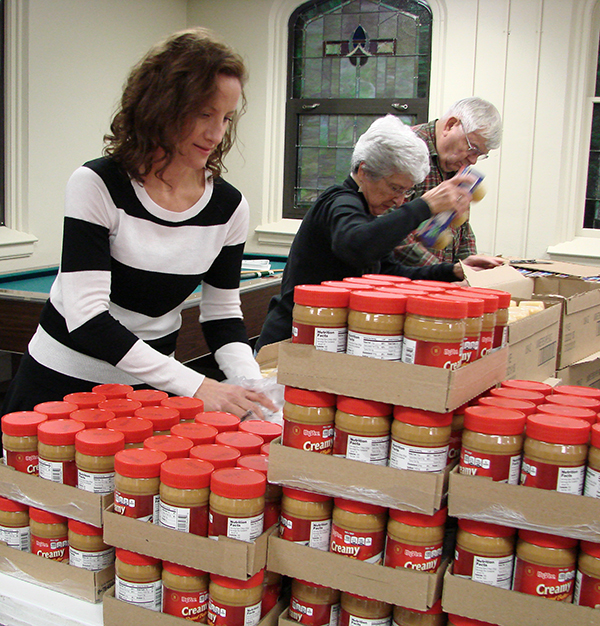 The Business Leadership Network engages with Iowa communities to facilitate discussion and collaboration on public health projects.
Sometimes simple conversations can kick-start great ideas. Take the time Laurie LaVan, a media associate in the Fairfield Community School District in southeast Iowa, joined several other teachers in sharing concerns about students going hungry.
"The conversation turned to elementary students who come to school on Monday and say they haven't eaten since they left school the Friday before," LaVan says. "It became clear to us that hungry students could be found throughout the district."
That exchange led to a community meeting, which resulted in the formation of Carry On Bags, a nonprofit organization that addresses food insecurity among preschool to grade 12 students in Jefferson County, Iowa. Each week, the program provides approximately 300 food bags filled with snacks and simple meals that allow children to "carry on" without school meals over weekends and during school breaks. The project's partners include school personnel, a local church, grocery store, and dozens of volunteers.
The College of Public Health is working to spark more conversations that generate partnerships like these through its Business Leadership Network (BLN). The BLN reaches out to businesses and communities in Iowa to form collaborations around public health needs identified by local residents.
"The people who live and work in communities know best what their health concerns are," says Tara McKee, BLN coordinator. "Our role is to facilitate conversations about those topics, encourage connections to address concerns, and provide education and resources whenever possible."
Community Grants in Action
In 2015, the college's Iowa Institute of Public Health Research and Policy established the Business Leadership Network Community Grant Project. The grants of up to $3,000 fund collaborative projects and programs that support community health. Carry On Bags was one of five inaugural recipients of the community grants, and is using the funds for food and containers to transport the bags to schools.
The organization is interested in evaluating its impact, so McKee connected Carry On Bags board member Dee Sandquist with CPH Assistant Professor Natoshia Askelson, who has research interests in food insecurity issues.
"I'm helping them put together a quick online survey for parents to fill out. The university will host the survey and provide them with a basic summary," explains Askelson.
The remaining first-year grants included projects focused on keeping at-risk youth active and safe by providing weekend activities (Fort Dodge), engaging youth and adults in dialogue through a shared book reading (Webster City), educating elementary school children about oral health (Creston), and establishing a worksite wellness education, recognition, and reward program (Cerro Gordo County).
Worksite Wellness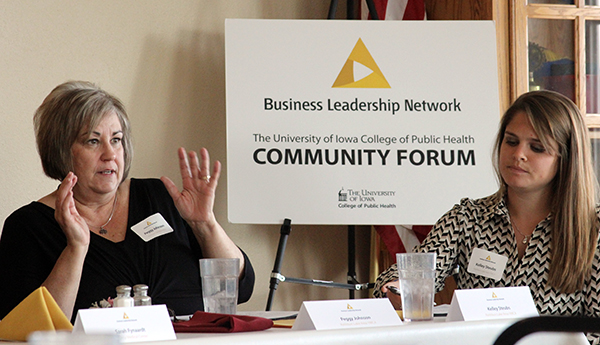 The worksite wellness initiative, a partnership of the Cerro Gordo County Department of Public Health, Mason City Chamber of Commerce, and Mason City Blue Zones Project, has offered several "lunch and learn" sessions for local businesses. The topics have included packing healthy lunches, strength training, and ergonomics and safety. In August, Nathan Fethke, CPH associate professor of occupational and environmental health, spent a day conducting on-site ergonomic assessments at four major employers in the Mason City area.
"He visited with management and employees to reinforce all the things they were doing right, and to offer suggestions for areas of improvement," says Kelli Huinker, health promotion manager for Cerro Gordo County Public Health. "Having access to experts from the University of Iowa has been great."
The major component of the grant, says Huinker, has been the creation of a Worksite Wellness Awards Program that "recognizes local organizations that go above and beyond to support their employee's well-being." The first annual awards were announced in October.
"We want to recognize employers that are already investing in wellness initiatives, and encourage other businesses to get involved in worksite wellness programs," says Huinker. "Our goal is to make these programs sustainable."
On the Road
The BLN is also taking College of Public Health faculty and students on the road to engage in public health-related conversations. As of November 2016, the BLN has hosted 15 community forums around the state with business owners, economic development leaders, public health officials, health care providers, local elected officials, agency and organization representatives, and the general public. Topics have included agricultural health and safety, cyberbullying, health care reform, women's health, and substance use.
University of Iowa President Bruce Harreld visited Mason City in November as part of a Community Forum, which focused on workplace health and safety, mental health, obesity, and more.
(Watch a video about the Mason City visit.)
The BLN will announce the second round of community grant recipients in December 2016. Additional support from the UI Provost's Office of Outreach and Engagement, Iowa Farm Bureau Federation, and the Roy J. Carver Charitable Trust is funding the second grant cycle. Several more community forums are being planned for the spring.
"The BLN is a great way to learn about what's happening in communities around the state, and to explore new areas where the college might partner on initiatives," says McKee.
This story originally appeared in the Fall 2016 issue of InSight.