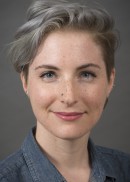 Lauren Pass, an MPH student in community and behavioral health, is the principal investigator of a new study examining how anxious and depressive disorders are managed in rural cardiovascular disease patients. Under the guidance of Dr. Korey Kennelty, assistant professor in the UI College of Pharmacy and co-investigator, the study utilizes patient interviews to identify mental health care needs in high-risk rural Iowa populations.
"Cardiovascular disease and mood disorders often go hand-in-hand," says Pass. "Patients with mood disorders are at higher risk for developing cardiovascular disease and often have poorer cardiac outcomes than those without mood disorders. For rural patients, access to mental health care can be scarce, so it's important that we identify ways of improving the delivery of mental health care within the settings most widely available to patients — their primary care clinics."
The study is sub-project of the Improved Cardiovascular Risk Reduction to Enhance Rural Primary Care (ICARE) clinical trial lead by Dr. Barry Carter in the UI College of Pharmacy. The study examined whether clinical pharmacists can be implemented in primary care offices to improve the care of patients at risk for developing cardiovascular disease.