If you are not using a College of Public Health computer you may find that not all of your network drives are available. Depending on your location on campus this could be for several reasons. If you need to access these drives you will need to manually map a network drive to the network resource.
To map a network drive you must know the share you wish to connect to. The share is a unique name on the server for the folder you're looking for. One example would be the collegiate "P drive" which is located at "\\iowa.uiowa.edu\shared\public-health\cph". This location is known as your folder location when mapping a drive and will always follow the above format of \\servername.domain.name\sharename.
To get started right click on the My Computer icon located on your Desktop or on your Start Menu and select the Map Network Drive options from the pop up menu.
You will need to enter your connection information. Make sure to include the full server name and check the reconnect at logon box.
If you are not logged in with an account that has access to the folder you are trying to access you can click on the link for Connect using a different user name and enter in the correct credentials. Please remember to enter in Iowa before your Username.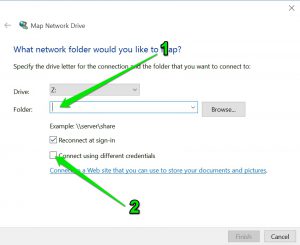 After you have entered the above information click finish and you should now get a window with your newly mapped network drive.
If you are unsure of the name of the folder you want to connect to or are having problems connecting to network drives, please contact the CPH IT Office.