2020 Outstanding Alumni Award Recipients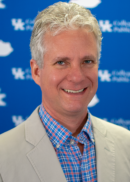 Ty Borders, PhD, MA, MS, received a Master of Arts degree in hospital and health administration in 1995, a Doctor of Philosophy degree in hospital and health administration in 1999, and a Master of Science degree in epidemiology in 2001, all from the University of Iowa College of Public Health.
He is currently a professor in the College of Nursing and director of the Rural and Underserved Health Research Center at the University of Kentucky. Previously, he held faculty positions at the University of Arkansas for Medical Sciences College of Public Health and Texas Tech University Health Sciences Center School of Medicine.
Borders is a nationally recognized leader in the field of rural health and has served as editor of The Journal of Rural Health for the past 11 years. He was appointed to the National Advisory Committee on Rural Health and Human Services, which advises the US Secretary of Health and Human Services.
His research contributions to substance abuse issues in rural areas have helped to shape rural health policy. He has published numerous high-impact, peer-reviewed articles focused on rural/urban, racial, and ethnic variations in health-related quality of life, consumer reports of care, and health care access. He has served as principal investigator on numerous grants from the National Institute on Drug Abuse, National Institute on Alcohol Abuse and Alcoholism, and the Agency for Healthcare Research and Quality.
His honors include being elected as a Fellow of the American College of Epidemiology; receiving the Excellence in Writing Award from the University of Kentucky Department of Writing, Rhetoric, and Digital Studies; and being appointed a Colonel of the Commonwealth of Kentucky, an honor bestowed by the governor of Kentucky in recognition of outstanding service to the community, state, and nation. He has been an outstanding teacher and mentor, including being nominated for teacher of the year.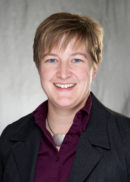 Kari Harland, MPH, PhD, received a Master of Public Health degree in epidemiology in 2004 and a doctoral degree in epidemiology in 2010, both from the University of Iowa College of Public Health. She is currently director of research operations in the Department of Emergency Medicine at the University of Iowa Carver College of Medicine and an adjunct assistant professor with the Department of Epidemiology at the UI College of Public Health. She was additionally trained in the Department of Occupational and Environmental Health's Heartland Center for Occupational and Health Safety as an Occupational Injury Prevention Fellow.
As a supervisor and mentor to medical students, medical residents and graduate students, Harland teaches analytical approaches and methodologies connecting classroom learning to real-world work. Her guidance has led her graduate students to win numerous awards and research grants and have resulted in many publications. In 2018, she received the University of Iowa Supervisor of the Year Award.
She is responsible for overseeing research across the entire Emergency Medicine department. She currently manages over 30 active research projects for faculty, medical fellows, medical residents, and students in pharmacy, medicine, and public health. Her strategic vision and ability to build a cohesive team has helped rapidly expand the department's research capabilities, increasing its annual productivity by 350% over the last five years.
Harland's own research focuses on improvement of rural health, intimate partner violence, and sexual assault prevention. She has published over 70 peer-reviewed papers, contributed to book chapters on domestic violence, and served as the principal or co-investigator for several NIH or CDC-funded grants.
She has established an extensive network of collaborators across Iowa and leads education and mental health interventions for youth across the state. She is a core faculty member of the UI Injury Prevention Research Center and serves as the evaluator for the CDC-funded Rape Prevention Education program housed at the Iowa Department of Public Health.