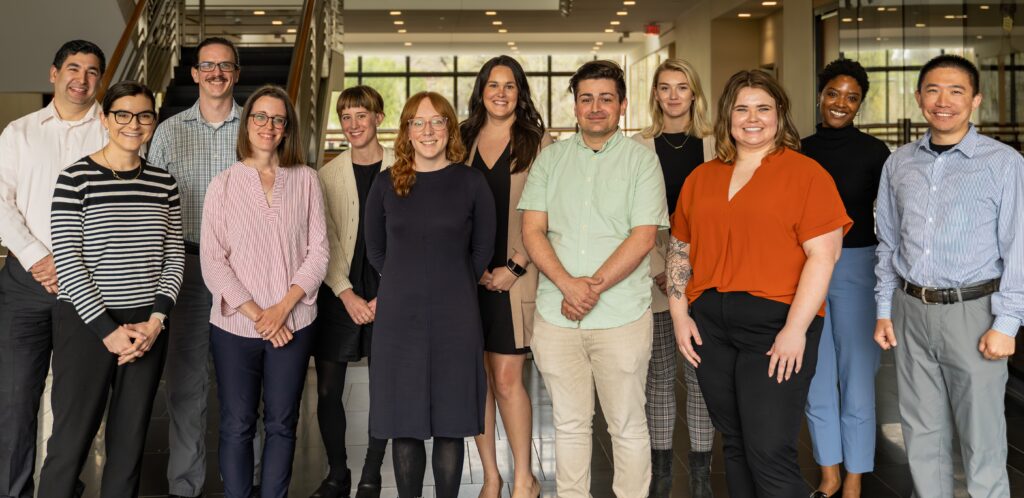 Mission
The University of Iowa College of Public Health Alumni Advisory Council is comprised of members representing various class years, degree programs, geographic areas, gender identity, race and ethnicity. The Council meets to serve the needs of the CPH community, through their desire to retain close ties with their alma mater and support the mission of the College.
The CPH Alumni Advisory Council exists to help create opportunities that nurture broad, college-level alumni engagement and enhance the student experience within the College of Public Health.
The council fulfills this mission by participating in and promoting college-wide activities that connect alumni and current students, facilitating strong connections between alumni, and honoring alumni achievements.
Members
Richard Barajas, 15MPH
Assistant Dean for Diversity, Equity and Inclusion, University of Wisconsin-Madison School of Veterinary Medicine
Changjie Cai, 18PhD, Occupational & Environmental Health
Assistant Professor, University of Oklahoma Hudson College of Public Health
Isabella De Soriano, 17MPH, Community & Behavioral Health
Consultant, De Soriano Consulting, LLC
Laura Eckles, 19BA
Research Assistant, Epidemiology, University of Iowa College of Public Health
Kaci Ginn, 21BA
Program Manager, Iowa Valley RC&D
Alyson Gray, 18MS, Occupational & Environmental Health
HSE Engineer I, Honeywell FM&T
Paige Jaeger, 14MHA, Health Management & Policy
Director Blank Women's & Children's Clinics and Provider Support, UnityPoint Health – Blank Children's Hospital
Larissa Luckel, 13MHA Health Management & Policy, 13MPH Community & Behavioral Health
Director of Revenue Cycle Services, Revology
Matthew Noghrehkar, 21BA
Environmental Health Officer, Black Hawk County Public Health
Lena Swander, 16MPH, Epidemiology
Cancer Epidemiologist, Wisconsin Department of Health Services
Patrick Ten Eyck, 15PhD, Biostatistics
Assistant Director, Biostatistics and Research Design, Institute for Clinical and Translational Science; University of Iowa
Mary Nelle Trefz, 12MPH Community & Behavioral Health
Advocacy Network Director, Iowa ACEs 360 Coalition
John VanBuren (Council Chair), 13MS and 16PhD, Biostatistics
Associate Professor, Pediatrics; Adjunct Assistant Professor, Family and Preventive Medicine, University of Utah
Geneva Wilson, 19PhD, Epidemiology
Research Health Scientist, Edward Hines Jr. VA Hospital