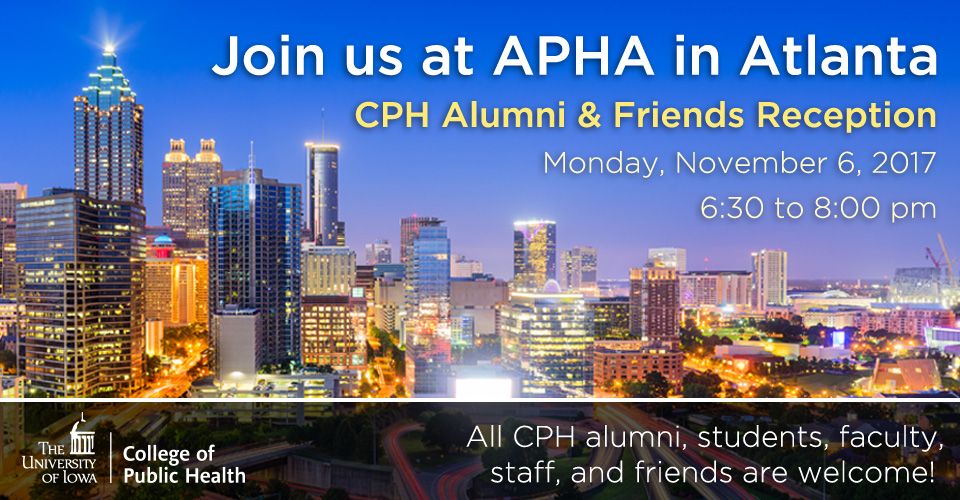 Join us at APHA!
The American Public Health Association Annual Meeting & Exposition is the premier public health educational forum in the United States. This year, the meeting will take place November 4-8 in Atlanta, Georgia.
CPH Alumni & Friends Reception
College of Public Health alumni and friends planning to attend the APHA Annual Meeting in Atlanta, or those who will be in the area, are invited to catch up with fellow alumni and faculty, staff, and students at a reception hosted by the college.
Monday, November 6, 2017
6:30 to 8:00 pm
The Glenn Hotel
2nd Floor
110 Marietta Street NW, Atlanta, GA
The reception venue is located 1-2 blocks from the Georgia World Congress Center and the Omni Atlanta Hotel at CNN Center. For guests driving, the Glenn Hotel has valet parking ($15).
For questions, contact Tara McKee.
CPH Presentations
The following College of Public Health faculty, staff, and students and other University of Iowa colleagues will be presenting at APHA.
| | | | |
| --- | --- | --- | --- |
| Day | Time | Title | Presenter |
| Sun 11/5 | 1:30-2:30 PM | Improving Healthcare Encounters for Individuals with Intellectual/Developmental Disabilities through Customized Care Communication Cards | Lyubov Slashcheva |
| Sun 11/5 | 1:30-2:30 PM | Examining Gaps in Holistic Cancer Survivorship Care in Iowa to Facilitate Creating the Healthiest Nation | Sara Miller, Maresi Berry-Stoelzle |
| Sun 11/5 | 3:00-4:00 PM | Mediators of racial differences in Viral Control for Black and White veterans with HIV infection in the Veterans Administration | Mary Vaughan-Sarrazin, Michael Ohl, Kelly Richardson |
| Sun 11/5 | 3:00-4:00 PM | Networks of community-based organizations involved in disaster preparedness and response in rural Midwest: Organizational roles and collaborations in supporting older residents | Sato Ashida, Xi Zhu, Julia Friberg, Audrey Schroer |
| Mon 11/6 | 8:50-9:10 AM | Professional development for undergraduates: An opportunity for building bridges between academia and public health practice | Margaret Chorazy |
| Mon 11/6 | 12:30-1:30 PM | Where antipsychotics are prescribed for nursing home residents | Yan Zhang, Elena Letuchy, Margaret Carrel, Ryan Carnahan |
| Mon 11/6 | 12:30-1:30 PM | Deployment Coping Strategies and Post-deployment PTSD and Depression: Associations among Servicewomen deployed to Iran and Afghanistan | Michelle Mengeling, James Torner, Brenda M. Booth, Anne Sadler |
| Mon 11/6 | 12:30-2:00 PM | Finding words, understanding risks: Substance use, mental health, and suicide among youth (a collaborative session with the Mental Health Section) | Paul A. Gilbert |
| Mon 11/6 | 2:30-3:30 PM | Differing Perceptions of the School Lunchroom Experience: Implications for Messaging to Parents and Students | Grace Ryan, Patrick Brady, Natoshia M. Askelson |
| Mon 11/6 | 3:15-3:30 PM | A Community Strengths and Needs Assessment in a Midwest Majority-Latino Rural Town | Paul A. Gilbert, Felicia Pieper, Jason D. Daniel-Ulloa |
| Tues 11/7 | 8:30-8:50 AM | Join the Movement: A community health campaign focused on removing the barriers of unsafe bicycle infrastructure through demonstrations, advocacy, and education | Erin Arneson, Emily Hejna, |
| Tues 11/7 | 10:30-11:30 AM | We may not be reaching parents of Latino boys for HPV vaccine promotion | Jason D. Daniel-Ulloa, Ana Duarte, Laura Seegmiller, Carol McCarthy, Barbara Baquero |
| Tues 11/7 | 11:18-11:30 AM | PedalPortal: A technological approach to capturing bicycling risk exposure | Cara J. Hamann, Steven Spears, Corinne Peek-Asa |
| Tues 11/7 | 12:30-12:45 PM | Association of Iowa Prescription Monitoring Program with opioid pain reliever prescribing patterns in Iowa: 2003-2014 | Jessica Hinmann, Ryan Carnahan, Grant Brown, Carri Casteel |
| Tues 11/7 | 12:30-1:30 PM | Dental Payment Innovation: Best Practices of Health Center Dental Clinics in Four States | Lyubov Slashcheva |
| Tues 11/7 | 12:30-1:30 PM | Feasibility of a clinic-community pharmacy coordinated human papillomavirus (HPV) vaccination program | William Doucette, Jason D. Daniel-Ulloa, Laura Seegmiller, Susan Curry |
| Tues 11/7 | 12:30-1:30 PM | A Qualitative Assessment of the Smoking Policies and Cessation Activities at Small and Very Small Workplaces | Christine M Kava, Barbara Baquero, Susan Curry, Paul A. Gilbert, Edith A. Parker |
| Tues 11/7 | 12:50-1:10 PM | Using extreme event attribution to determine the impacts of climate change on human health | Gabriele Villarini, Wei Zhang |
| Tues 11/7 | 2:30-3:30 PM | Healthcare system-level measures of HIV care quality are not associated with outcomes for common comorbidities among people in care for HIV infection | Michael Ohl, Kelly Richardson, Mary Vaughan-Sarrazine |
| Tues 11/7 | 4:30-5:30 PM | Exposure to computer work and prevalence of musculoskeletal symptoms among university employees: A cross- sectional study | Aditya Stanam |
| Tues 11/7 | 4:30-5:30 PM | Differences in Young Adult Workers' Experiences and Perceptions of Workplace Violence | Carri Casteel, Cassidy Branch |
| Tues 11/7 | 4:50-5:10 PM | Relationship Between Patient-Centered Medical Home Indicators and Quality of Care in HIV-Positive Veterans | Michael Ohl, Kelly Richardson |
| Wed 11/8 | 10:30 AM-12:00 PM | Developing a Toolkit to Train Community Health Promotores in Rural Iowa to Deliver Cancer Prevention Messages | Isabella C. De Soriano, Mara R. Cheney, Barbara Baquero, Jason D. Daniel-Ulloa |
| Wed 11/8 | 10:50-11:10 AM | Demographic, psychosocial and percieved environmental factors associated with depression severity in a Midwest Micropolitan community | Jason D. Daniel-Ulloa, Barbara Baquero, Yazmin Juarez, Amy Schumacher, Christine Kava, Heidi Haines, Edith A. Parker |
| Wed 11/8 | 11:15-11:30 AM | Facial Fractures in Patients with Firearm Injuries: Profile and Outcomes | Veerasathpurush Allareddy |
| Wed 11/8 | 11:26-11:40 AM | Comparing Workplace Violence Experiences of Adolescent and Adult Workers Using the National Crime Victimization Survey | Carri Casteel, Shabbar Ranapurwala |