Honorary Degree Recipient: John W. Colloton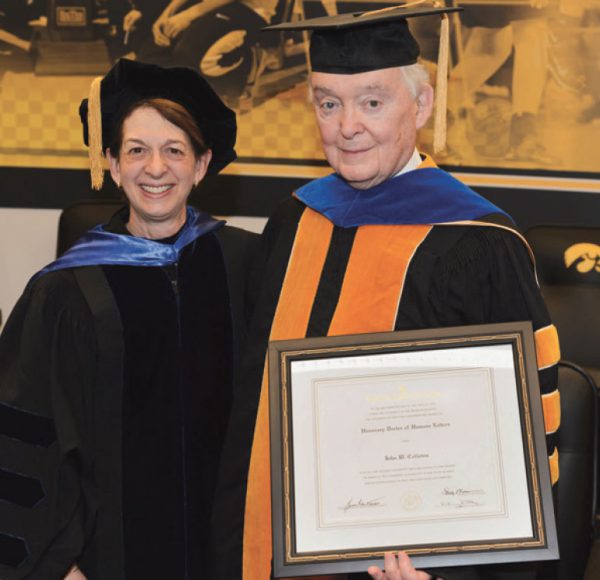 In May 2013, the University of Iowa awarded John W. Colloton an honorary Doctor of Humane Letters degree in recognition of his service to the UI Hospitals and Clinics (UIHC), leadership in medicine and public health, and ongoing commitment to the university and its work. Over a distinguished career of more than 40 years, Colloton guided the UIHC to its present status as one of the premier medical centers in the world.
See a John W. Colloton career synopsis
After graduating magna cum laude from Loras College in Dubuque in 1953 and serving two years in the U.S. military, Colloton earned his master's degree in hospital and health administration from the University of Iowa in 1957. Embarking on his professional career as an administrative resident at UIHC, Colloton rose through the ranks to become the hospital's chief executive in 1971. After more than two decades at the helm of UIHC, he resigned the directorship in 1993 to become UI vice president for statewide health services, a position from which he could focus more intensively on health reform issues of import to the university, as well as the entire state.
Colloton's vision and drive were crucial to the development and advancement of UIHC. He conceived and led the effort to construct more than $500 million of new clinical facilities at UIHC. These facilities have been vital to the recruitment of outstanding clinical physicians and other health professionals, and to the development of a world-class health care center for the people of Iowa.
Colloton's service extended to the state and national healthcare communities. He was elected chairman of the National Council of Teaching Hospitals in 1979 and he was appointed an inaugural member of the prestigious Congressional Office of Technology's Prospective Payment Commission in 1983. He was elected to the Institute of Medicine of the National Academy of Sciences in 1987, and in 1988, he became only the second non-physician chairman of the Association of American Medical Colleges.
He has brought his expertise to other academic medical centers around the nation by accepting invitations to work on the policy and advisory boards at Duke University, Yale, Johns Hopkins, and the Universities of Michigan and Pennsylvania. In 1982, the Iowa State Board of Regents recognized his accomplishments by designating a new, $90 million UIHC addition the John W. Colloton Pavilion.
As a result of his vision and an exceptional ability to make his vision a reality, the University of Iowa has clinical care and educational facilities that are second to none in the nation, a remarkable achievement realized without any state capital appropriation. Colloton's devotion and commitment to the University of Iowa have created an enduring legacy for the future of UIHC, even as he continues to contribute to the university's advancement in many other ways.