Great Plains Center holds workshop for agricultural medicine professionals
Published on January 20, 2015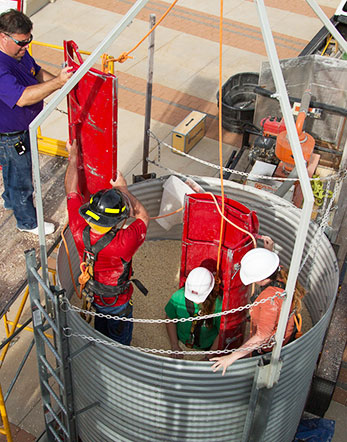 The Great Plains Center for Agricultural Health hosted the workshop "Building Capacity: A National Resource of Agricultural Medicine Professionals" Jan. 14-15 at the UI College of Public Health. The attendees included six partners from Iowa, Nebraska, North Carolina, Texas, and Vermont who teach the agricultural health and safety course called Agricultural Medicine: The Core Course.
"The development of the course was supported by the Great Plains Center through a consensus process with our partners and other leaders in agricultural safety and health," says Diane Rohlman, associate professor of occupational and environmental health and one of the center's project leaders. "The University of Iowa has long been recognized as a global leader in agricultural safety and health education."
Since 2007 the course has been offered 26 times in eight states, as well as in Australia and Turkey. More than 600 students have completed the course, primarily health care providers (physicians, nurses/nurse practitioners, physician assistants), veterinarians, medical students and public health graduate students, and health and safety professionals including Extension, safety managers, producers, and county public health workers.
Agricultural medicine is a specialty of the broader field of occupational safety and health that is targeted towards an interdisciplinary audience of rural health and safety professionals. While those professionals are a key link in delivering occupational health and safety services to the agricultural community, they generally do not receive adequate training, a need this course addresses.
The workshop was held to discuss course revisions and identify approaches to ensure sustainability. Based on a review in 2012, the center revised the curriculum to:
meet the needs of the center's current and target population: people who engage with and protect agricultural populations;
emphasize safety and injury prevention in the curriculum and provide practical approaches for controlling hazards;
add greater cultural relevance (both national and global perspectives);
include new/emerging issues and topics (such as rural roadway safety, ATVs, mechanization); and
incorporate more active learning – case studies, field trips, hands on activities.