Agricultural Medicine course expands its connections to Argentina
By Tony Craine
Published on July 15, 2015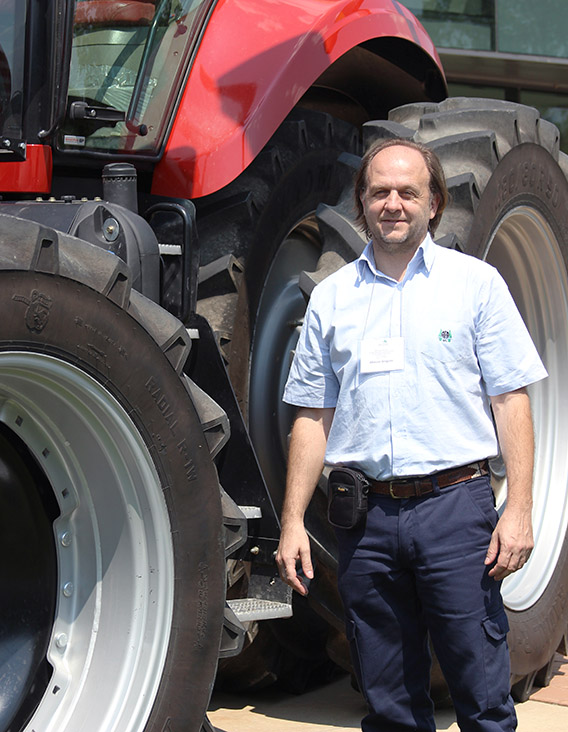 As a surgeon working in the fertile Pampas region of Argentina, Marcos Grigioni has treated several thousand patients suffering from injuries and illnesses related to agricultural work. And because Grigioni is also a farmer, he has a deep understanding of the health and safety issues that drive so many farmers and other residents of rural communities to seek medical attention.
"In Argentina, agricultural health and safety is not developing at the same pace as agricultural productivity," says Grigioni. "Very few professionals are working to promote safety in rural populations."
Grigioni belongs to a large farmer cooperative, Agricultores Federados Argentinos (AFA), and he has spent the past 10 years conducting research and developing health and safety programs for its 35,000 members. The cooperative relies on a network of women's groups in rural communities to disseminate the information.
From Argentina to Iowa
To expand the scope and effectiveness of that work, Grigioni traveled to Iowa this past June to attend the annual Agricultural Medicine course staged jointly by the University of Iowa College of Public Health, the Great Plains Center for Agricultural Health, and the Heartland Center for Occupational Health and Safety.
Directed by Diane Rohlman, CPH associate professor of occupational and environmental health, the intensive week-long, 40-hour course trains nurses, physicians, veterinarians, and health and safety professionals to anticipate and prevent health and safety hazards posed by large machinery, musculoskeletal injuries, respiratory ailments, and chemical exposures. Grigioni and other participants attended expert presentations, toured farming operations, and witnessed safety demonstrations, such as a simulated grain-bin rescue.
Offered at eight sites around the United States, the course is the centerpiece of a broad array of research, outreach, and education activities — many of which were founded by CPH professor emeritus Kelley Donham — that have enabled the Department of Occupational and Environmental Health to emerge as a world leader in agricultural health and safety. The University of Iowa is the only school in the United States to offer a graduate degree in agricultural safety and health.
An International Reputation
More than 760 people have received training from the Agricultural Medicine course, which has also extended its offerings overseas in Australia and Turkey. This international reputation drew Grigioni to Iowa City.
"The University of Iowa and this course offer the best materials for people like me in countries where agricultural health and safety is taking its first steps," says Grigioni. "In the United States, farmers, universities, and the government all work together for the safety of people who work in rural activities. In Argentina, the work is mainly originated by farmers. But everything I learned in this course could potentially be replicated in Argentina, because our agricultural systems are very similar. We have the same problems."
The Imporance of Data
Even in the United States, agricultural work ranks among the top three deadliest occupations. According to Rohlman, the fatality rate is about six times higher than the average of all industries combined. Establishing support systems and best practices for reporting, prevention, and treatment in a burgeoning market such as Argentina requires some basic groundwork. When considering future collaborative work between the University of Iowa and farmers and public health officials in Argentina, Grigioni and Rohlman see data analysis as a likely starting point.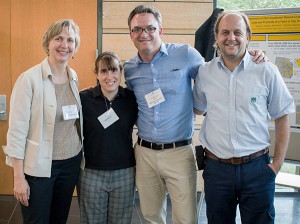 "In our work, we use data from multiple sources," Rohlman says. "For example, we have a program called FACE — Fatality Assessment Control Evaluation. It looks at every occupational fatality in the state each year and tracks why it happens, and then we make recommendations. But illness and occupation are notoriously hard to report. A lot of injuries and fatalities go unreported. Although our data is better, it's still an underestimate of the problem. And Argentina doesn't even have that. If things there are rising to the level of awareness, odds are it's even higher than we know.
"I think the first step is to work with Marcos on the data he has collected and try to identify trends to determine which topics have the highest injury rates. Once we have those, we could develop a package of materials that the women's groups could distribute — for example, a package covering respiratory exposure."
New Opportunities and Connections
Another goal is to have Grigioni lead a version of the Agricultural Medicine class in Argentina. Grigioni would like to see that work lead to a larger movement across South America. "Countries like Brazil, Paraguay, and Uruguay also don't have a structure for promoting health and safety in rural activities," he says. "One of our projects is to create a center with the collaboration of universities in those countries that could eventually expand further, perhaps even to nations in Africa facing similar problems."
This potent partnership will not only benefit agricultural workers in South America, it will also bolster CPH's research work and offer students and faculty new opportunities in the field. And Rohlman says that the connection may never have happened without a CPH global research grant that enabled Grigioni to make the trip to Iowa in the first place. Work on the grant brought together a group of CPH faculty, staff, and students whose combined efforts will ultimately have an impact on the reach and reputation of CPH around the world.
"Not many universities are open to people like us who are so far away," Grigioni says. "The people at Iowa invited us to come. They wanted to talk about our problems and how they can help. This has been a very good development for all of us."
Update
Read about CPH faculty members' May 2016 visit to Argentina.
Photos by Johnathon Choate