Alumna Angela Spears honored with Governor's Volunteer Award
Published on June 22, 2022
Angela Speers (21EMHA) received a Governor's Volunteer Award during a special recognition ceremony held June 15, 2022, in Cedar Rapids.
Speers was honored with an individual award by the Senior Health Insurance Information Program (SHIIP) for helping Iowans living with and preventing HIV understand their Medicare benefits and options and fight Medicare fraud and abuse through individual counseling sessions. She originally received the award in 2021, but the ceremony was postponed due to COVID.
Speers has worked at University of Iowa Hospitals and Clinics (UIHC) for over six years.
"I became a SHIIP counselor in 2015 at a previous job, and when I came to UIHC I continued to use that certification to help those living with HIV better understand their benefits and choose plans that would help them," she says. "One year I helped a patient look into their current Medicare Part D plan to see their pharmacy wasn't covered. I helped the patient switch plans and saved them over $100,000 in that year alone on prescriptions.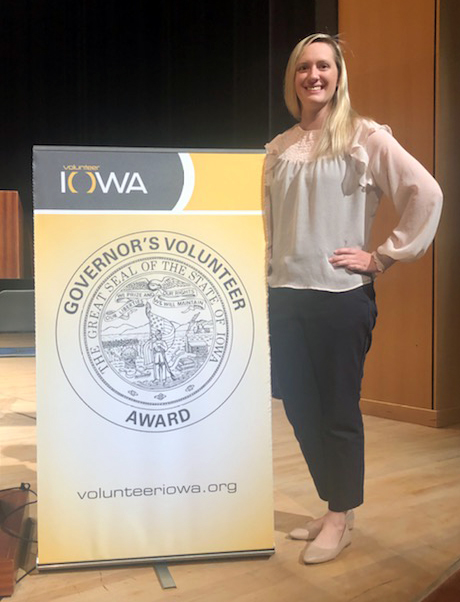 "As the HIV population continues to thrive and age, it was amazing the more people I was able to help each year," she continues. "In January of 2022, I decided to continue help with navigating benefits but moved in the HIV Prevention with the Tele-PrEP program within Pharmacy at UIHC. Both the HIV program and HIV prevention at UIHC are partnered with Iowa Department of Public Health, and this has allowed me to share my love of health care and public health in one role."
Coordinated by Volunteer Iowa, the Governor's Volunteer Award program—now in its 38th year—provides an easy way for Iowa nonprofits, charitable organizations, and government entities to honor their volunteers with a prestigious, state-level award. More information is available at volunteeriowa.org.