Alumnus Cormac O'Sullivan elected president of NBCRNA Board of Directors
Published on December 1, 2021
The National Board of Certification and Recertification for Nurse Anesthetists (NBCRNA) is pleased to announce that Cormac O'Sullivan, PhD, CRNA, has been elected president of its Board of Directors (BOD). His term began on October 2, 2021, following the conclusion of the October meeting of the BOD.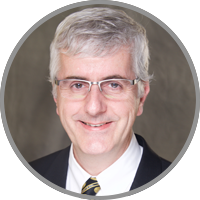 "I am deeply honored to serve my profession in this role and help continue to advance the professionalism and recognition of the CRNA credential through a strategic framework supporting lifelong learning in nurse anesthesia," he said.
Dr. O'Sullivan has served on the NBCRNA BOD since 2016, as well as numerous NBCRNA committees and subcommittees. He is an associate clinical professor and the director of the DNP program in Nurse Anesthesia at the University of Iowa and has worked as a CRNA at the University of Iowa Hospitals and Clinics for 26 years.
He completed his CRNA education at DePaul University and Ravenswood Hospital in Chicago and received his PhD in Health Services with a focus on Health Economics from the University of Iowa College of Public Health in 2008. His areas of research interest focus on quality and safety in surgical patients, perioperative crisis management, and provider and patient preferences for health care services.
The NBCRNA Board of Directors are volunteers that spend an estimated 300 hours per year on this important commitment, leading the strategic direction of the organization. The members of the Board of Directors are recognized as leaders in nurse anesthesia and related fields. Board members are certified registered nurse anesthetists, as well as a board-certified surgeon and anesthesiologist, both of whom have a current working relationship with nurse anesthetists, and a representative of the public at large. Members of the Board are elected to serve staggered three-year terms. Two of the CRNA Board Directors are elected by currently certified CRNAs through an open election by the CRNA community. A complete list of the current Board of Directors can be found on the NBCRNA website at nbcrna.com.