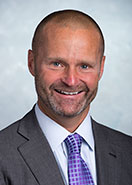 Sean O'Grady (93MA) has been promoted to Chief Clinical Operations Officer (CCOO) at NorthShore University HealthSystem in Evanston, Ill.
In this role, he is responsible for leading NorthShore Hospitals, Medical Group operations, Nursing, Home Health and Hospice, and Health Information Technology. O'Grady previously served as President of NorthShore Glenbrook Hospital. O'Grady began his NorthShore career with the Medical Group in 2007 as Vice President, Specialty Practices. As President of Glenbrook Hospital, he was responsible for operations, management, strategic planning and program development.
Prior to joining NorthShore, O'Grady worked at the Rehabilitation Institute of Chicago as Vice President, Operations, and at Barnes-Jewish Hospital in St. Louis in various administrative positions. O'Grady completed The Jewish Hospital of St. Louis fellowship in 1994. He earned his bachelor's degree from Bradley University and his master's in Hospital and Health Administration from The University of Iowa.