Analysis finds many women of child-bearing age continue to smoke electronic cigarettes
Published on April 29, 2019
A new study from the University of Iowa published by JAMA Pediatrics finds that many women of childbearing age use electronic cigarettes, particularly among those who smoke conventional cigarettes.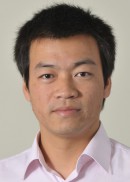 The study, led by Wei Bao, assistant professor of epidemiology in the College of Public Health, found that while use of conventional cigarettes was lower among pregnant women than non-pregnant women, the use of electronic cigarettes was almost identical between pregnant and non-pregnant women.
Bao notes preliminary research on the health impacts of e-cigarettes on fetal development has found they can affect lung development and cognitive function. His team analyzed data gathered from more than 27,000 women by the CDC's National Health Interview Survey between 2014 and 2017. The women were between the ages of 18 and 44 and 1,071 were pregnant.
Conventional cigarette use was significantly lower among pregnant women than non-pregnant women — 8 percent to 14.3 percent. However, the rates of e-cigarette use were not statistically different between pregnant women — 3.6 percent — and non-pregnant women — 3.3 percent. Moreover, the study found 39 percent of pregnant women who were current conventional cigarette smokers were also current users of e-cigarettes.
Although the survey data cannot determine whether they changed their smoking habits, Bao says the high proportion of e-cigarette use among smokers suggests women perceived them to be a safe alternative to conventional cigarettes. He says some may have switched with the intention of quitting smoking.
Bao cautioned that the number of pregnant women in the study was not large, so the precision of estimates may be limited. He says future, larger studies should continue monitoring e-cigarette use in pregnant women.
Co-authors of the letter include Buyun Liu, Guifeng Xu, Shuang Rong, Donna A. Santillan, Mark K. Santillan, and Linda G. Snetselaar of the University of Iowa. The results are published in a Research Letter in the April 29 edition of the journal JAMA Pediatrics.
Additional Media Coverage
Many Smokers Switch to Vaping While Pregnant, But Safety Issues Remain (U.S. News and World Report)
https://www.usnews.com/news/health-news/articles/2019-04-29/many-smokers-switch-to-vaping-while-pregnant-but-safety-issues-remain
Pregnant women may think vaping is safer than smoking, study finds (Philly.com)
https://www.philly.com/health/vaping-cigarettes-juul-health-pregnant-smoking-20190429.html