Ashida named IIPHRP Policy Fellow
Published on October 1, 2018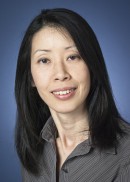 The Iowa Institute of Public Health Research and Policy (IIPHRP) has selected Sato Ashida, UI associate professor of community and behavioral health, as a 2018-2019 Policy Fellow.
The year-long Policy Fellow Program creates opportunities for primary faculty to enhance their skills for translating public health research into practice and policy. Each Policy Fellow develops and implements a project focused on a critical public health topic. Ashida's project will bring key stakeholders together to develop policy to improve the delivery of emergency management services to older Iowans.
Older adults in the community are especially vulnerable to negative health outcomes during and after disasters. If various agencies involved in emergency management had pertinent information provided by and about older Iowans, outcomes of disaster response and recovery processes conducted by state agencies and local emergency management services could be vastly improved. However, there are barriers to gathering and sharing information about individual residents across agencies and institutions.
Ashida previously developed an online program called PrepWise that allows older adults to establish personalized emergency and disaster plans. The plans include information about medical care and medication needs, functional limitations, cognitive difficulties, emergency support network members, service animals, and other important health needs. Now, Ashida's goal is to develop policy that will allow state and local agencies to access information pertinent to emergency management that PrepWise participants consent to share with agencies in order to enhance the delivery of emergency services to older Iowans.
Her first step will be to establish a core group comprised of state agencies as well as county experts in emergency management. This group will review efforts in other states and explore dynamics needed to implement a statewide policy that allows incorporating PrepWise into existing disaster management infrastructure.  Once policy recommendations are developed and vetted by this broad group, additional stakeholders will be identified and involved in expanding awareness and dissemination of this potentially life-saving tool.
Learn more about the IIPHRP Policy Fellow Program at www.public-health.uiowa.edu/iiphrp-policy-fellows/.