Atchison announces plans to retire from UI roles June 30
Published on February 3, 2017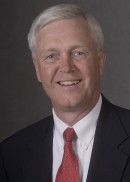 Christopher Atchison, director of the State Hygienic Laboratory (SHL) at the University of Iowa and associate dean for public health practice at the UI College of Public Health, has announced plans to retire June 30, 2017, after serving the state of Iowa and the University of Iowa in those roles for a decade.
Atchison also will retire at the same time from his position as clinical professor in health management and policy.
College of Public Health Dean Sue Curry lauded Atchison's work and commitment to the college. "On behalf of the College of Public Health, I want to express my deep appreciation and gratitude to Chris for the critical role he played establishing the college nearly two decades ago," Curry said. "His knowledge, understanding, and extensive personal network within the state and national public health community have made him an invaluable member of our college's leadership team, and helped ensure our program's continued focus and dedication to public health practice and effective health policy."
University of Iowa Vice President for Research and Economic Development Dan Reed praised Atchison for leading SHL, which has been at the forefront of public health issues in Iowa since its establishment in 1904.
"With his retirement, Chris will bring to a close a remarkable 32-year career in public health—and 45-year career in public affairs—marked by many accomplishments," Reed said. "Under his guidance since 2006, the SHL has been an enormous public health asset to the local community, the state of Iowa, the region, and beyond. He and the lab played a critical role in responding to the flooding of 2008, the influenza pandemic in 2009, and the threat of Ebola and Zika in 2014 and 2016, as well as many other health and environmental safety challenges in between."
Reed said Atchison also oversaw the opening in 2010 of a new, LEED-Gold certified building for the SHL in the UI Research Park, boasting the largest open laboratory in the country.
Prior to joining the faculty at the University of Iowa in 1999, Atchison was director of the Iowa Department of Public Health (1991-1999) and assistant director of the Illinois Department Health 1987-1991.
"It's been an honor to have been entrusted with this role of leadership and for the support Vice President Reed, Dean Curry, and other university administrators have provided," Atchison said. "I greatly value the opportunity to work with the dedicated staff of the SHL, who literally are prepared to work 24/7 to protect the health of Iowans. I look forward to doing all I can to support the State Hygienic Lab and the university during this period of transition."