Baker appointed to national global health panel
Published on February 6, 2019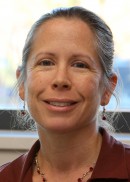 University of Iowa faculty member Kelly Baker has been appointed to a three-year term on the National Academies Board of Global Health. The panel, comprised of global health experts representing a range of academic disciplines, carries out activities and studies aimed at advancing the health of people worldwide.
Baker, assistant professor of occupational and environmental health at the University of Iowa College of Public Health, leads research focused on understanding how water, sanitation, and hygiene (WASH) conditions in low- and middle-income countries affect the health of women and children. Her research activities span the globe and include projects in India, Haiti, Armenia, Kenya, and The Gambia.
The NAM Board on Global Health is charged with monitoring the broad field of global health and the pursuit of critical concerns in three major areas: U.S. policies and programs in global health; health problems in developing countries; and health issues of mutual concern to the United States and other industrialized and industrializing societies.
More information about the Board on Global Health is available here.