Celebrate Global Public Health Week
Published on September 7, 2022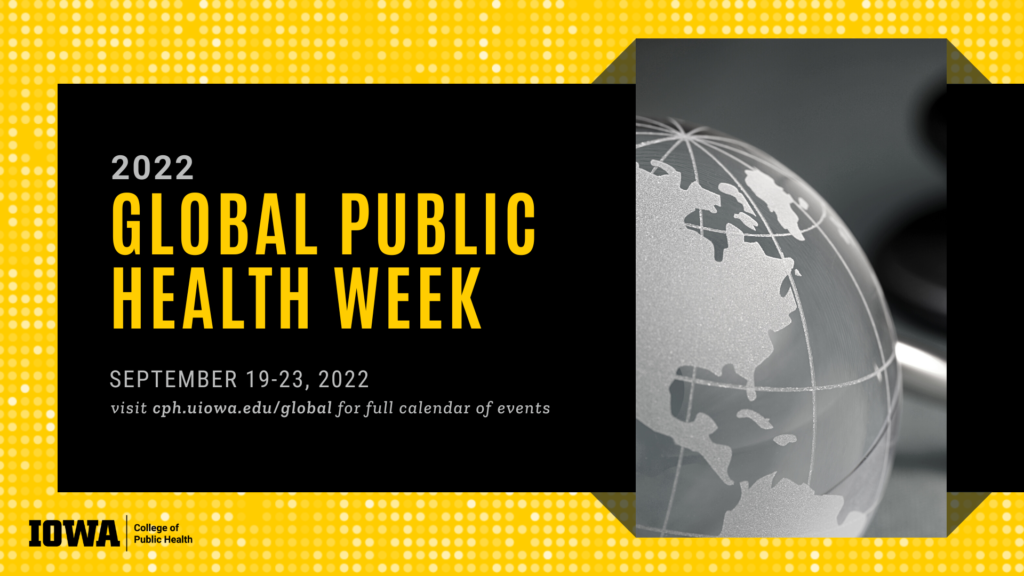 The annual Global Public Health Week in the College of Public Health celebrates international topics and examines emerging public health needs from around the world. Check the events calendar for the most up-to-date details and links.
Global Food Drive
Sept. 19-23, 2022
This year's Global Public Health Week Food Drive will benefit the Food Pantry at Iowa. Bins will be placed in the CPHB Atrium to collect donations. See a list of suggested donations.
Global Public Health Week Keynote: "Do Corporations Make Us Sick? Understanding the Commercial Determinants of Health"
Presented by Dr. Anna Gilmore, University of Bath
Sept. 19, 2022
12:30 PM – 1:30 PM
Zoom – Advanced registration is required.
This keynote lecture is currently open only to faculty, staff, and students in the College of Public Health.
Students Overseas: Funding Your Public Health Experience Abroad
Sept. 20, 2022
1:30 – 2 PM
N171 CPHB
College of Public Health Multicultural Potluck
Sept. 21, 2022
12:30 PM – 1:30 PM
CPHB Outdoor Patio (Rain location: CPHB Main Atrium)
Come try new food and/or bring a dish from a culture you identify with or admire. All are welcome to attend (with or without a dish). Sign up here to bring a dish.
Global Public Health Experiences with Child Family Health International | Information Session
Sept. 21, 2022
3-4 PM
Virtual Event
Service-learning in Mexico: Learning Abroad over Spring Break
Sept. 22, 2022
10-10:30 AM
N171 CPHB