Charlton to lead study aimed at improving quality of rural cancer care
Published on April 20, 2021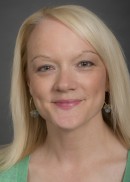 Mary Charlton, associate professor of epidemiology in the University of Iowa College of Public Health, has been awarded a grant from the National Cancer Institute (NCI), part of the National Institutes of Health. She will serve as principal investigator for research that focuses on a collaborative network intervention to improve cancer care quality in rural hospitals caring for rural, underserved patients.
Timothy Mullett, chair of the Commission on Cancer (CoC); Ingrid Lizarraga, COC state chair of Iowa; and Sarah Birken, associate professor at the Wake Forest School of Medicine, will serve as co-investigators on the grant, entitled "Effectiveness and implementation of a health system intervention to improve quality of cancer care for rural, underserved patients."
"The best possible outcome from this grant would be to improve the quality of cancer care in rural areas. This will be done through the establishment of an evidence-based path to sharing resources between rural and urban cancer programs that will make achieving CoC standards more feasible for smaller hospitals," said Charlton.
There is growing evidence that limited access to high-quality cancer treatment is one of the main drivers of higher cancer mortality rates among rural cancer patients. The team's analyses of Iowa Cancer Registry data indicate that 40 percent of rural patients with breast and colorectal cancers receive most or all definitive treatment in rural hospitals that do not collect or monitor data on their quality of cancer care. These hospitals are far less likely to be CoC-accredited, a marker of high-quality care. In addition, the data show these patients are less likely to receive guideline-concordant care. Given patients' needs and preferences to receive cancer care locally, a promising strategy to improve quality of cancer care and outcomes in rural populations is to intervene directly with the community hospitals in these areas.
Following the successful approach of the Markey Cancer Center Affiliate Network (MCCAN) of the University of Kentucky Markey Cancer Center, Charlton and her co-investigators are working toward establishing the Iowa Cancer Affiliate Network (I-CAN). They have identified four rural Iowa community hospitals to participate in this intervention trial and developed expert support teams to assist key stakeholder groups within each hospital. They will assess determinants and outcomes of the implementation process, along with stakeholders' perception of the value and utility of the CoC accreditation standards and the intervention itself as a way to improve the quality of cancer care for their patients.
This work could lead to dissemination of similar models across rural settings, thereby improving quality of care, reducing rural disparities in cancer outcomes, and giving rural hospitals an avenue to demonstrate their quality of care.
"This study represents the first NCI-funded project to apply state-of-the-science methods of adapting an evidence-based intervention to promote its implementation and effectiveness in a new context, " said Birken. "In so doing, the study not only extends the demonstrated benefits of MCCAN to Iowa cancer programs; it also advances these emergent implementation science methods with empirical data."