College of Public Health researchers receive funding from NextFifty initiative
Published on July 14, 2021
Researchers at the University of Iowa College of Publc Health have been awarded funding from the NextFifty Initiative to continue their work with Colorado's Above-Fifty Employment Strategies (CAFES) project.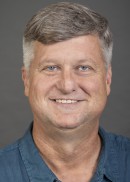 CAFES is a collaboration created to conduct in-depth research examining Colorado employers and their focus on attracting and retaining experienced employees, 50-years old and above. The project team also developed the Age-Inclusive Management (AIM) Colorado website where employers can identify paths to create age-friendly workplaces.
The team at the University of Iowa, led by Dr. Brian Kaskie, associate professor in health management and policy, was part of this collaboration and looks to continue their work in partnership with nonprofit Transamerica Institute and other Colorado-based organizations including Governor Jared Polis and the Colorado Strategic Action Planning Group on Aging.
According to Dr. Kaskie, the new funding will support the widespread dissemination of the AIM Colorado website among Colorado employers, offer informational resources and guidance for employers to implement age-friendly practices, report on the empirical experience gained during dissemination and implementation efforts, and identify pathways for expansion and issues to be addressed through public policy.
NextFifty Initiative is a Colorado-based private foundation. The organization exists to create brighter, longer and healthier futures that unlock the potential of communities through an advanced funding approach.