CPH alumnus Stephen Corbeil honored with Hancher-Finkbine Medallion
Published on April 15, 2022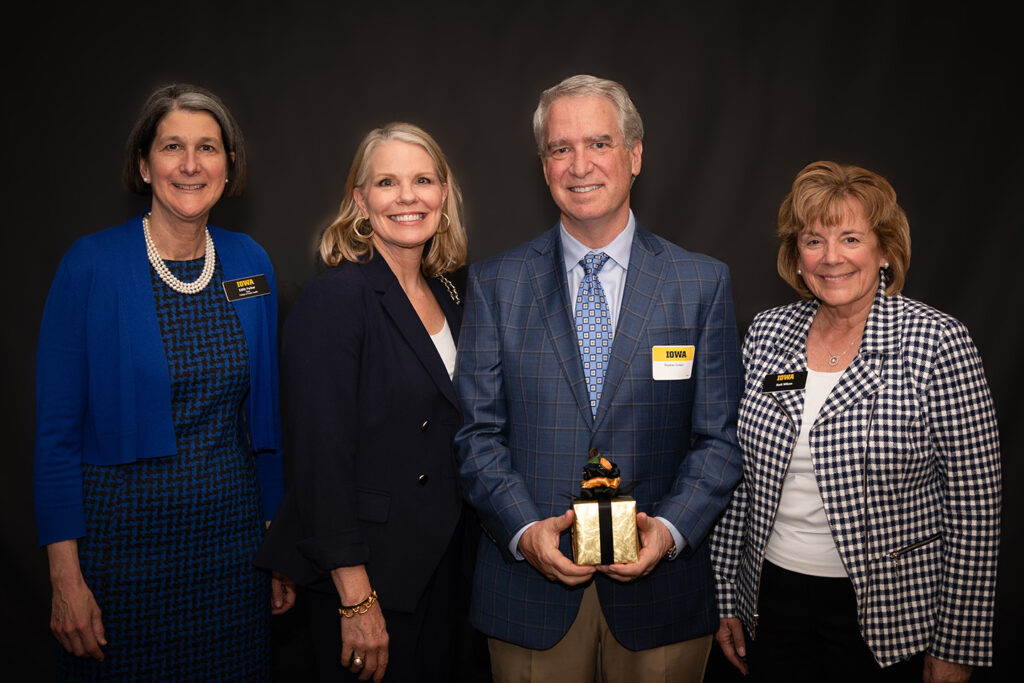 College of Public Health alumnus Stephen Corbeil was honored at the 105th Hancher-Finkbine Awards dinner on April 12, 2022, one of seven University of Iowa students, faculty, staff, and alumni to receive the prestigious Hancher-Finkbine Medallion. UI President Barbara Wilson and Sara Sanders, dean of the College of Liberal Arts and Sciences, presented the 2022 awards, the university's highest recognition of exemplary dedication in leadership, learning, and loyalty.
Corbeil is a 1984 graduate of the UI. He earned a master's degree in Hospital and Health Administration (now the Department of Health Management and Policy in the College of Public Health). Corbeil is an avid supporter of the College of Public Health and generously offers his time, resources, and expertise for the enrichment of today's students.
For more than 30 years, Corbeil successfully managed multiple health care organizations within Tenet Healthcare and Hospital Corporation of America (HCA), national health care providers, in numerous states. Most recently, as president of TriStar Health, a multi-billion-dollar division of HCA, he oversaw 22 hospitals, nine ambulatory surgery centers, and more than 12,000 employees in Tennessee, Georgia, and Kentucky.
In remarks during the Hancher-Finkbine award ceremony, Corbeil reflected on his leadership opportunities, including his role as a professional and personal mentor to many students and his service as preceptor for summer interns and post-graduate fellows.
"All too often I've encountered students and business colleagues who were paralyzed because they didn't know EXACTLY what they wanted to do in their life, career, or community service," Corbeil noted. "Instead of just taking the next step, whatever that may be, they felt stifled and fearful.
"For everyone here, don't let that happen—you really don't have to have your life all figured out, or even the next chapter, just keep moving forward. I can't imagine what my life would have been if I hadn't taken my next step, and went to Iowa!"
Corbeil also served on the Alumni Board for the Department of Health Management and Policy from 2000-2012 and was president in 2007. He received the College of Public Health's Outstanding Alumni Award in 2011, the UI Distinguished Alumni Achievement Award in 2016, and is recognized as a College of Public Health Founding Partner for the key role he played in the inception of the college in 1999. In addition, Corbeil and his wife, Mary Kay, are among the college's most generous supporters. They have established an endowed scholarship, a graduate assistant scholarship, and provided funding for a pilot program in partnership with Tennessee State University.
It's been a joy for Mary Kay and I to continue to support the university through our various gifts and scholarship opportunities—and see the impact that our gifts have provided for the students here. I'm particularly proud of the partnership the Iowa Health Management and Policy Department is forming with Tennessee State University's undergraduate program in health administration. Tennessee State is a long-standing HBCU in Nashville. As a Board member of TSU, I'm excited to have Iowa play a role in developing future health care leaders of color!

Steve Corbeil in his remarks at the Hancher-Finkbine Award dinner