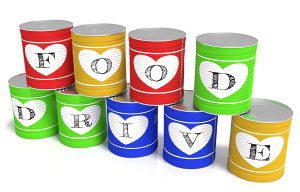 The Graduate Student Association is happy to promote Project Holiday, the annual food drive benefiting the Crisis Center Food Bank.
Drop off your items in the bins located near the stairway in the CPHB atrium. There are 6 bins, one for each department and one for administration/MPH/undergrads. Look for the appropriate bin and donate!
The event will end on Friday, December 14 with a benefit concert at the Mill. Entry fee is $5/students and $10/adults. The show starts at 6 p.m., music by Kevin B.F. Burt!
The Top 10 List of Needed Items:
Financial Donations (these can be dropped off to Lexie Just N177)
Canned Fruit & 100% Fruit Juice
Canned Meat & Peanut Butter
Pasta & Rice
Hearty Soups & Stews
Canned Vegetables
Toilet Paper
Baby Formula
Baby Diapers
Laundry Detergent